This evening, tasting of something new: The Caroni Replica, specialy bottled for the 100th anniversary of Caroni.
In 1918 the Caroni distillery begins to produce rum mainly used for assembling the famous British Navy Rum.
This rum was never sold as an official Bottling except some rare versions as the one from 1940 by Tale & Lile Group. This replica is based on it.
Same bottle, same labels, same proof and an 18 years old rum. This rum is from the 2000 vintage as a lot of other bottling from velier.

This one is the last version to be sold on large quantity. 12.000 bottles are available in the world but the price is high and could afraid some customers… we talk of a range from 200 to 290€.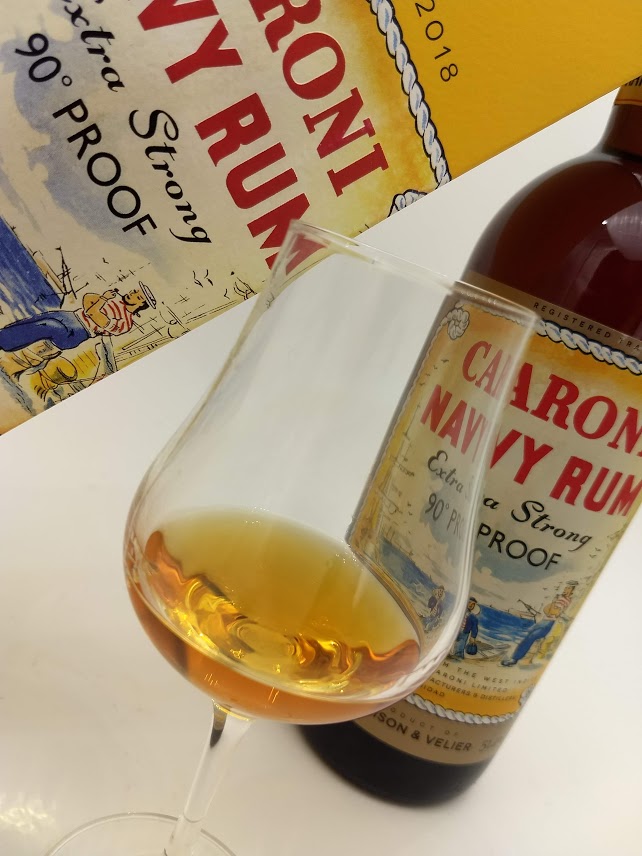 Color: beautiful mahogany rum with a discreet green circle. The rum is thick and it seems announce a big heavy rum.
Nose: First impressions are Brown suger and spices with vanilla and white peper. This rum is very gourmand and it reminds me the 17 yo.
Caracteristic petrol touch is not as impressive as the 12 yo but you can't be wrong on the origin of the juice. Oil is present as well and woods too.
Fruits are there with banana, mango, citrus, orange, pineapple… all on a big marmelade.
Something spicy appears and make me think of chili and peper… It's quit strange but interesting.
The 51% are very sweet and never agressive.
Palate: the nose was really sweet but the first impression are more "agressives" here.
Vanilla mixed with burnt caramel and hydrocarbons confirms, if needed, that we are drinking a true caroni.
Tabacco, nuts, and a small bitterness from the wood add a raw aspect. Citrus, orange and banana perfume this blend just after that.
Finish is not really long but typical with citrus and licorice.
Price: 230-290€
Conclusion: the nose was more complex than the palate but it's a good caroni. Not the best but a good one, I prefer the 2000 blend 17 yo but it's difficult to find it now.
For this last Caroni "for everybody", I think it's a good way to begin and discover what's Caroni is. 
Older bottling are anyways very difficult to find.
We won't talk about the price, the facts are here: Caroni is expensive.
Related Post.