In my article about a 35-year-old Hampden, I concluded with the fact that the longer these spirits were old, the better they were … In fact, for me, only the time was able to tame these eccentric rums and make them accessible to taste. Whether in Europe or elsewhere.
So, when I saw some sample photos of Hampden 1983 and Hampden 1989 from Plantation, I was very curious to know more.
First surprise, their very dark color … So, first suspicion interrogation, these juices would have been « saucés » as it can happen from time to time?
Formal response from a plantation staff, no, it just comes from aging in Jamaica …. in Jamaica ??? 34 years old ??
Second question, Hampden doesn't have so old stock in their warehouses, and so it is for the least astonishing as an announcement …
In fact, it's quite simple and the answer lies in the fact that these barrels were stored at Wray And Nephew (little scoop for the blog's Facebook page) who buys barrels from all over the island in order to make its blends … This distillery being part of a large group, barrels that did not interest his cellar master were therefore put on sale, including these.
Here is the story … In any case, it is very nice for the fans of rums, because having the opportunity to taste such old rums aged more than 3 decades in the tropics, it is clearly not all the days that it happens!
So, this note is to be taken for what it is, a note on a product not marketed and whose plantation doesn't know yet what to do with … this version is raw formwork, directly withdrawn barrel of cognac in which the liquid is located for the time being.
Hampden 1983
Here is the data sheet and comments provided by Plantation:
34 years in Bourbon casks + 1 year in barrels of Cognac.
Volatiles: 3259 g / hL AP Higher alcohols: 2204 g / hL AP Esters: 818 g / hL AP
Obscuration (actual degree – apparent degree (difference due to the extraction of only wood)): only 0.49
Color
Dark, tends to black … it's really amazing
Nose
It goes a bit in all directions with a big dominance on the wood.
There is a jumble of mokatine, red fruit and its acidity, banana, olive oil, hazelnut and dark chocolate.
With time, a side under wood appears with aromas of mushrooms, bark of wood, moss, dead leaves among others.
Quite surprisingly, it clearly smells of burnt, rubber, old tires that have been in the sun for a long time (yes, I love sniffing tires in the market car parks).
The English sauce, soy with a salty and rich side as well as balsamic vinegar is also in the game.
The alcohol is rather discreet for the more than 70% announced …
Palate
Reche, astringent with a huge woody that directly fill the mouth … it's very hard, rough and not very sexy.
It is still very smoky, burnt, caramelized, roasted, rubberized … to believe that the barrel has been lavishly brushed with a kind of burnt caramel or other.
The red fruits stay and bring lightness, bitter dark chocolate is really present as well as pineapple and olive.
The alcohol is present of course, it is not terribly balanced but it remains raw from rough without work on for the moment.
Price
Not marketed
Conclusion
Rude is the word … it's very interesting, but we are clearly on a product, that for me, is not marketable in the state. For the moment it is red fruit juice (roughly) and too much alcohol …
The thing is that I don't understand why to put it back again, as if it was not enough wooded 🙂
So, we'll see what they will do with it but I am curious to see the result.
By cons, Hampden ?? I do not recognize the distillery … my « bad evening companions » will have remained on a demerara side with rubber aside … on my side I find a Jamaican aspect, but not too much Hampden in fact.
Note
wtf/100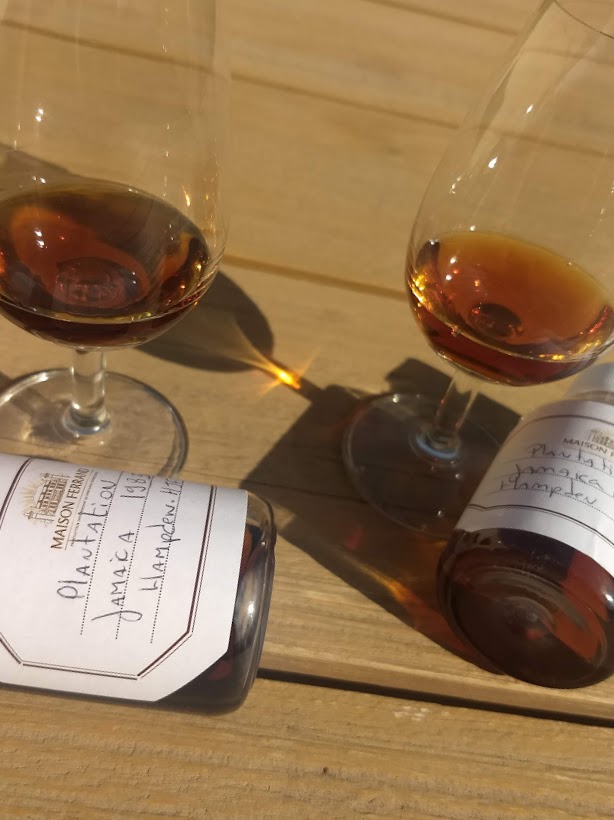 ---
Hampden 1989
Here is the data sheet and comments provided by Plantation:
28 years in barrels of Bourbon + 1 year in barrels of Cognac.
Volatiles: 3259 g / hL AP Higher alcohols: 2204 g / hL AP Esters: 818 g / hL AP
Obscuration: 0.73. The value is low and is valid for the extraction of wood only, and for this one has outright deposits of burnt wood in suspension in the rum (then greatly influences the density). We can therefore consider that 0.7 is the max that can give the barrel alone (Bourbon American oak, in tropical conditions, which could be different with other wood and other climate). Indeed, 35 years of aging, we rarely see more. Beyond 0.7, we can therefore consider that there is either addition of caramel or sugar (or addition of much less natural things such as glycerol, if we do not detect sugar analysis …)
Color
Slightly lighter than 1983 but still as impressive of darkness.
Nose
The traces of red fruits are much less present and the wood takes almost all the space.
Ashes, smoke, wood, big bitter dark chocolate are the first aromas that arrive and cover almost everything.
Adding a taste of water, a very whisky aspect in sherry casks is present … it's really amazing!
The ristretto coffee is once again there and a good package of spices … again, I can not find too much Hampden even if Jamaica is present.
Palate
Much more pungent than the '83, the alcohol seems much less integrated and all is not very sexy in the mouth.
Once again, the wood, the burnt, the ashes and a very « under wood » side are in the game.
The final is interminable, on a very big bitterness … my last word for this 1989 was:
« It's very long but not very good » … which is sad actually, I prefer the opposite 🙂
Price
Not marketed
Conclusion
What to say, this 1989 is really too much wooded compared to his oldest brother of 1983 … the bitterness of an old piece of wood of marsh is too present and not sexy.
As heard during another tasting by a friend, « It feels like sucking a pallet of wood … a big fat euro pallet actually« , I think this quote clearly stands here 🙂
Note
wtf/100
Conclusion
Well, I'm not very kind but it is products not yet marketed and whose bottler does not know yet what he will do … it is a hyper-woody rum and very high in alcohol … I imagine that a big aeration and a well done reduction should make everything much more pleasant.
In any case, I warmly thank my contact who will have allowed me to taste these two historical oddities … it remains something unique to be able to so plunge into so old bottlings !
Huge thanks to you, I'll share what I have left of these two samples to follow the chain started at Wray and Newphew.