At the beginning of January 2019, I painfully put myself back in my chair for the end of year celebrations and the fiesta organized for my 40th birthday, when suddenly I receive a message from Benoit Bail … I imagine he wants to wish me a happy new year and blah blah blaaa …
Well yes, it was indeed the case but he adds a «  We are currently searching an international jury for the first Martinique Rhum Awards and wanted to propose you to be part of it …  » … gloup …. uh yes of course!
So here I am a member of an international jury to go, taste and give my opinion on a wide range of rums of all horizons. All between 3 days where we will be able to visit and better understand this beautiful island.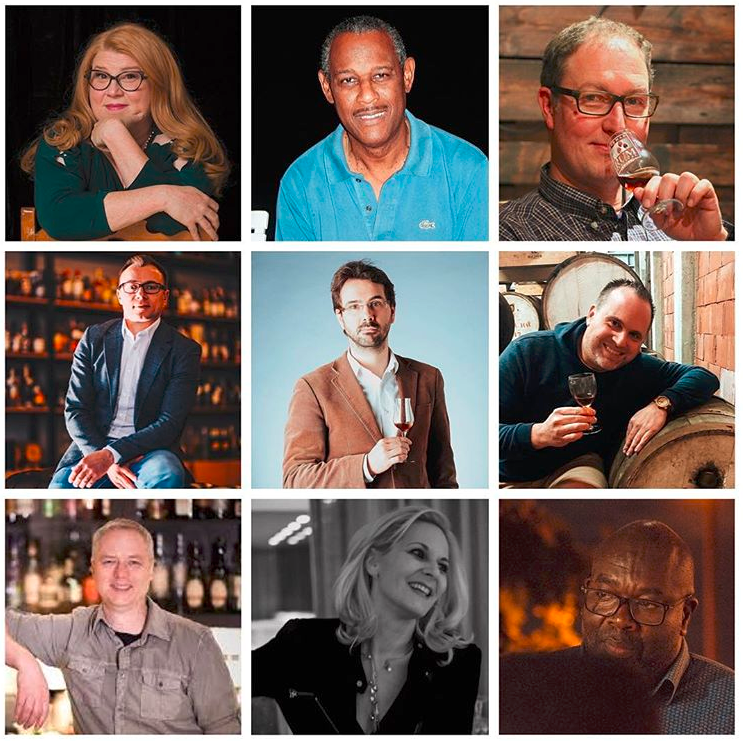 Coming from totally different horizons, eclecticism will be on board during this trip that promises so much. From cocktail experts to rum importers, festival organizers, writers or just like me to passionate people, these 9 people will spend 4 days in Martinique to discover the most beautiful aspects and taste a wide range of rums.
I will try during this article to transcribe at best this unforgettable experience, but all tell will be much too long, I keep some to share after 😉
Day 0-1
The least interesting day to tell you because it mainly talks about cars, planes and waits… and also a good trip with Dirk , just to get to know each other.
So, to strat the travel, I offer him a tasting of two Caroni . A 2000 randomly drawn (cask 4015) during the caroni Ceremony and a 1996″ trepasser  » already known …. well I can tell you that the 2000 dislodged everything, it was just wonderful !
The rest, very well with a nice trip aboard an Air Caraïbes A350 and its ti punch HSE 🙂
Arrived on the island, Benoit picks us up at the airport and we discover our hotel, the villa suite , for the next 4 days … Superb!
The evening was marked by the welcome punch, a chance to get to know each other, as well as a short welcome from Guy Ferdinand , the promoter of the project and the presentations of the « golden canes », done by a local artist.
Day 2
After a good night, wake up early because we have a busy day!
On the program, visit cane fields, distillery La Mauny followed by a lunch at home with Daniel Baudin and other employees of the famous distillery.
Our beautiful team will have visited the distillery (in maintenance), distillation columns through ovens and other fermentations tanks. Any questions being followed by an answer without taboo … and even 2-3 nice indiscretions 🙂
Important, La Mauny, like the other distilleries, has of course its own cane fields … but also a whole series of small planters on which the distillery really counts.
This year, the quality of sugar cane is rather exceptional … but unfortunately the quantity much less and the role of these planters will have been essential. 1/3 crop less than the year for example all the same!
So, the distillery will be repainted to ward off bad luck … Superstition pretty cool, I see it in pink me personally 🙂
On the other hand, we had to cancel the visit of the fields of cane following a very crappy weather … 🙂
The passage in the warehouse allowed us to taste some rums directly out of barrels to see the great influence of the barrel on different rums of the same batch.
Note the storage system of the barrel very interesting, each drum can be removed individually …
To end this very interesting day, an evening where we are going to taste several rums blindly is proposed to us. la case Thai, attrois îlets.
On site, we are joined by a lot of knowledge including among members of Rhum Club Martinique , tourists « well known » on holidays and Emmanuelle from La Favorite!
The selection was just excellent with an exclusive, the new «  Privilege for Lulu  » from La Favorite which is a blend of very old rums, grading 45% and will be available for the end of the year .
In short, a good time to laugh and share like all blind tastings can offer.
On my side, « the honor » will have been saved by recognizing a Depaz cuvée de la Montagne… but far enough from the score of David 🙂 !
Day 3
That day, I was looking forward to visit the distillery La Favorite … If you follow me, you know that I particularly like the sympathy that emanates from this establishment.
I like a lot of their rums and I really appreciate the authenticity, family and positive character of one of the smallest distilleries from the island...
So, as it is particularly beautiful this morning, Benoit decides to visit cannes fields today with the kind permission of Franck …
We would discover the different types of cane, the Bel'air River, the crash of new cane and the cutting of it in order to make a cane juice on the way back …. All in the pickup of Frank, in mode Indiana Jones , one of the highlights of the day!
Back to the distillery, Franck made us the visit of this one with a very nice tasting of raw white rums of column, two rums of 4 years in new barrels (French and American oak) since a few months and the vintage Lulu as a reminder (still so good 🙂 )
The following ending at the shop where we join Emmanuelle and drink 2 different cane juice, to notice the differences …. and it is quite marked indeed, and very good!
After that, boat trip to the ti sand and its beautiful beach to attend a cocktail contest … the winner will see its realization become THE coktail of Martinique for a year …
Given the preparation time and equipment needed for 10 people, only 4 members of the jury will taste these cocktails … leaving the others at the beach or at the (superb) buffet, perso it suits me very well too;)
Special mention for the beach, one of the most beautiful of the island it seems … in fact, it's just superb!
Congratulations to Samuel Laborieux who will have made a very nice cocktail with orange, carrot and rum of course!
The day ends with a visit to the new rum bar, «  House of rums » and a delightful meal between the jury …
Day 4
The big day, the day when we must blindly taste a selection made by participating distilleries … Small deception, all have not answered the call for various reasons that must be the their.
Personally, I don't understand too much and I find that a pity but hey, maybe for next time.
So, we will not taste some juices of other prestigious houses, it would indeed make no sense to force their participation … the purchase of bottles are of course not a problem for such an organization.
Just that I don't see the interest to give a possible price to people who don't adhere to the concept.
So we go to the Habitation Depaz , once again on a boat to enjoy the beautiful scenery of this island.
Arrival on site, a big waw for this place just superb! I propose these photos, it will be much more effective than a long blah blah …
The purpose of the morning is to taste and rate each juice on 100 following 7 different criteria . Of course, everything is blind and in very distinct categories.
So yes, it's really hard as exercise and relatively complicated … note a rum is already not an easy thing and I admit to having been harmed during this moment 🙂
Given the different profiles of the 10 members of the Jury, the cumulative notes will have given results that have aroused the astonishment of many people, me first in the end … but this is often the case with the tasting at blind and in a group.
See that
Rhum agricole blanc AOC <55% :
Maison La Mauny 50%
Rhum agricole blanc AOC > 55% :
Dillon 55%
Rhum blanc agricole non-AOC et pur jus jusqu'à 55% :
A1710 Renaissance
Rhum blanc agricole non-AOC et pur jus de 55% et plus :
Père Labat 59%
Rhum agricole AOC Martinique de 3 à 6 ans :
Dillon VSOP
Rhum agricole non-AOC et pure jus de 4 ans et plus :
Karukera Black Edition Alligator
Rhum de mélasse de 3 à 12 ans :
A1710 Soleil de Minuit
Rhum agricole AOC Martinique de 6 ans et plus :
HSE XO
Rhum de mélasse de 12 ans et plus :
Plantation Rum Jamaica 2005
Rhum agricole AOC Martinique Brut de fût :
Trois Rivières Cask Strength 2006
Rhum agricole non-AOC et pur jus Brut de fût :
Mhoba Rum Select Reserve French Cask Rum
Rhum de mélasse Brut de fût :
Rivière du Mât 2006 (Cuvée de la Confrérie du Rhum)
After all this, we are entitled to a very good meal consisting of «  Ti nain Cod « . It does not look like anything but it's really good … really nice after this tasting marathon 🙂
Back at the hotel, we have some time to rest and prepare for the delivery of results …
And what a beautiful closing night, evening where we were able to chat quietly with the various actors of rum in Martinique and …. finally enjoy this pool that taunted me so much from the beginning 🙂
Day 5
Wake a little complicated, but often the sign of a good evening, we take one last time the boat to go to Petibonum at Carbet for a mechoui organized by Guy Ferdinand.
Still a great moment friendly as our host of the day …
But unfortunately, the hour of the return having rung, I thus eclipse with Dirk in order to return for the airport and to take the opposite way 🙂
The rest …. well it's like the beginning, not hyper interesting in the end!