Back to Caroni this evening… but with a special one, the favourite of John Barrett himself: The 1989 vintage from bristol Classic Rum.
Bottled in 2008, so 19 years after the distillation, this caroni was slowly aged from 1989 in the Warehouse of the old closed distillery.
I was 10 years old… it look like stupid but I was playing GI Joe with friends during the time guys were working on it. If cobra knews…
It's Always funny to remember who I was at that time 🙂
So, as usual with bristol, this one was reduced to 43 ABV. It could look very low but don't forget, we speak about bristol. The masters of reduction with Samaroli.
Some scream scandal, some other Genius… But to be honnest, I was a little scared of the low abv 🙂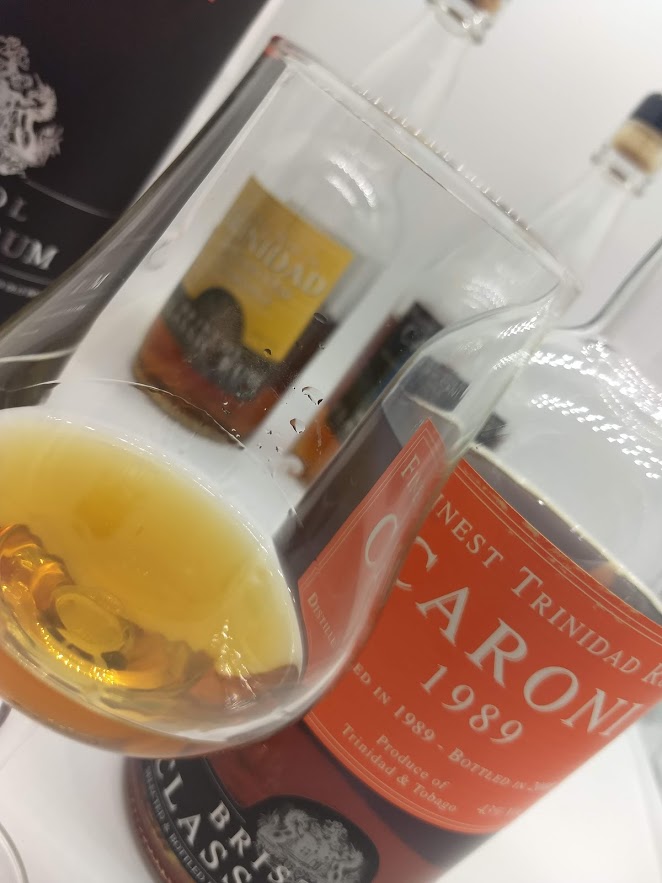 Color: amber/Brown rum. It looks very oily… the reduction doesn't seems deadly.
Nose: oil, exotic fruits, hot wax, rubber, tobacco, leather … we are clearly at Caroni, no doubt about it.
But it's very thin, classy, elegant … no aggressiveness.
Notes of dried fruits, slightly cooked caramel, apricots, blood orange, roasted pineapple charm us quickly enough.
A very pastry side with almond paste confirms all the good that I think of this nose. It is very fragrant, a little raw and 100% Caroni.
No need for a ventilation of 3h25 under fan. This Caroni is ready for tasting, ideal for a real pleasure. Again, the reduction seems controlled from start to finish …
I do not even ask the question if it had been full proof, here it is 100% happiness so it suits me.
Palate: sweet, suave but with presence, bodied. This marzipan, frangipane is huge of gluttony. 
Blood orange, candied cherry, mango, liquorice, a light smoke, a fine oak and a hint of black olive finish this beautiful bouquet.
This mouth is long, endless on rubber and hot tar but without destroying the palate. This rum is only kindness and love.
And this is all the great talent of Bristol, making rums accessible, balanced but keeping the essence of the product.
I admit I do not understand when I read or hear that these bottlings are flat and boring, honestly it's just bombs these reduced Caroni from bristol (I've also the 1996 and it's famous).
Moreover, the level of this bottle may drop very quickly, so it's a rum fun.
Price: less in 2008 than now 🙂
Conclusion: must have but then it starts to seriously sting … I have a hole in my rum budget for a while with this one but I do not regret it for anything in the world. It's a monument!
Some other thoughts ?