Special articel today, because I propose you the interview of a very discreet person and that one does not really see very often, Mrs. Maryse Samaroli wife of Mr. Silvano Samaroli and the thinking head of Masam!!
I'm extremely proud that she has agreed to answer my questions, and it's really an honor to share it with you.
This couple is one of the most recognized in the world of spirits, the fact that it gives me a little of his time is just great for this little blog ….
Hello, you are the wife of a great gentleman from the world of spirits, Silvano Samaroli. But there must be more to say … help me 🙂
There is a proverb that says, « behind a great man, there is always a great woman by his side » … Joking aside, I had admiration and respect for my husband, Silvano Samaroli, and his contagious passion for Whisky and for great spirits.
In his career, he has selected and bottled Bristol aged cognacs, great rums and great whiskies. He said that a good spirit should age in a very cold and humid climate. Slower was the process of aging, the better the quality of a spirit.
I'm Maryse but like yesterday and today, I am also Maryse Samaroli and I live the emotion of being it. I took in hand the testimony of a life and I communicate it with the passion of the experience lived with Silvano.
In addition to being his wife, I was his partner from 1980 to 1992 for the Samaroli Wine and Spirits Merchants and from 1992 to 2008 of the Coilltean International Co. LTD.
The brand « Samaroli » was then sold in 2008 and since 2016, I am at the head of Masam independent bottlers.
After the unfortunate death of Silvano in February 2017, I had to take control of the situation and realize its project partly started to celebrate its 50 years of activity in the world of spirits, bottle Tomintoul 1967 45,2% Vol. Casks # 4688- 5425.
Masam is a project initiated by Mr Samaroli in fact?
Yes, Masam was a project initiated by Silvano. A desire to question himself. Masam is simply a word game: Maryse Samaroli.
Fate will have wanted me to pay tribute to his memory and his great work through Masam. I became myself an « independent bottler » with the support of our private collection.
This project will be ephemeral and will have a « programmed » end with the end of the stock of this private collection.
Can you tell us about your husband's selections … without going into too much detail, how was it going?
Silvano made two types of selections on New Filling and Old Whiskies, receiving samples from brokers or moving to Scotland.
For the young, he had an understanding of the performance and technical status of the distillery and imagined its maturation in the years to come.
For aged whiskies, he decided after tasting whether he bottled it or not. In the positive, he pondered whether he prolonged his maturation or not.
Then, there is the moment of bottling which is also an important phase for the final quality of the distillate. He was the first not to do industrial filtration for example and to offer « Full Proof Natural Strength« .
The selection is the fruit of a fierce research spirit, it is an extraordinary experience, based on memory and constant experimentation.
We shared sensations and opinions during the tastings of a lifetime, but he was indisputably the « Maestro » and I the lucky student.
Regarding the rums, how did it happen since, to my knowledge, you did 'only' in the whisky at first?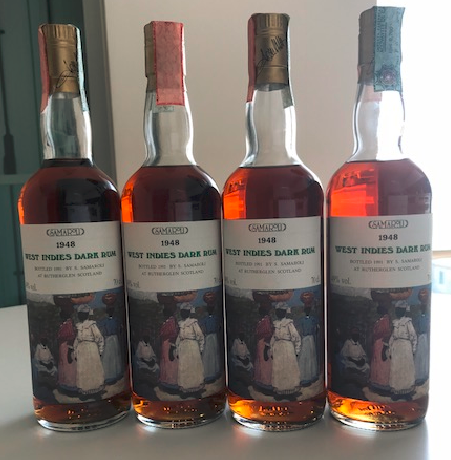 His first selection in the rum world was the 1948 West Indies Dark Rum. Silvano considered him as the bottling in his career.
This sample arrived « by chance » on our tasting table. This one came from a Scottish family that had made the investment there is a distant past …
This rum was originally 10 Butts 500l, it remained just 3 barrels for a total of 488 liters.
I remember Silvano jumping for joy after the tasting, a magical moment.
What would be your most iconic bottling for you and why? If you had to « synthesize » the spirit of Mr Samaroli …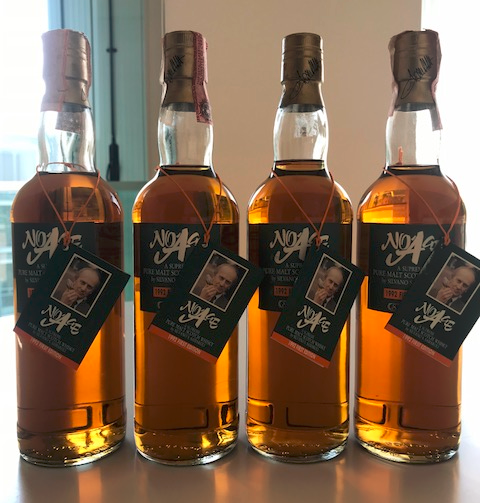 The most iconic bottling for me would be the « The NO AGE » declared 1992 First Edition, created and wanted by Silvano, an assembly of « pure Malt » much rarer and more valuable than a « Single ».
Behind this No Age, there is a vertical assemblage of casks of different ages and geographical origin of Scotland as Laphroiag 1967 and 1970. Ardberg 1974. Longrow 1973. Glen Garioch 1971. Mortlach 1957 etc …
Could you explain to us the objectives that you set for yourself through Masam?
The bottled casks of the Masam reflect the philosophy of life of Silvano, it bottled that which satisfied it fully and we want to continue that through our bottlings.
So, Masam's goal is to bring back 100% samaroli products as before 2008? It was therefore expected from 2008 to remake bottlings in the near future?
No, it was not expected in 2008 to propose bottlings in the future.
But the company we sold the brand « Samaroli » did not have the means to buy us all the stock of barrels set aside during our years of activity.
For us these barrels have been the best investment of our life.
Bottling such barrels must be something to take but also stressful … When and how do you decide that a barrel is ready to be bottled and at what degree? Do you use the same techniques that Mr Samaroli had at the time to decide that?
Bottling Silvano's selected casks is an act of love for him.
During my sample tastings where I decide the degree of bottling I want, I pay attention to my senses, my intuition, and my imagination.
For rum, we got a Foursquare, a Hampden and 2 Port Mourant … what about rums in this private collection? Without revealing too much, what can we expect in the coming months / years?
Don't reveal the surprises !!! ( 🙁 )
What do you think of the Dying Port of Auld Alliance / Corman, does it respect 100% of Mr Samaroli's vision? (This bottling was supposed to be the first Masam rum, fate would have wanted it otherwise)
The Port Mourant of Auld Alliance / Corman was selected by my husband Silvano and was actually part of the Masam stock.
I had a lot of fun giving them these 2 casks because I knew they were in good hands and that Silvano's spirit would be 100% respected.
Personally I would dream to taste one day an agricultural rum selected by Mr Samaroli, does this exist?
No, Silvano was from Scottish school, although he respected the agricultural rum, he preferred the distilled products in Pot Still, as in Jamaica for example.
We did more than 20 years ago study trips to a number of countries producing rum. Times have changed since then, rum production has improved.
Rum has become fashionable and is drunk like a big Cognac or a good Whisky.
We hear too little about your recent bottlings and this surprises me given the quality of these, is it a desire to remain discreet?
I can assure you that we had a very strong image and no sales problem with regards to our bottlings.
You ask me why we don't talk about our recent bottlings ?
Simply because since 2008 the year we sold the brand « Samaroli », we have been absent on the market.
Let's give time to our passionate friends to establish a dialogue with our products.
What is your view of the world of spirits today? How do you position yourself against your colleagues such as Velier, Silver Seal, Bristol, Candenhead etc?
The law of demand makes the offer and there is everything on the market: from means, from good to excellence.
My husband, Silvano Samaroli, throughout his career ensured a guarantee of quality in his bottlings.
My colleagues, as you have called them, are more important commercially and economically than we are. But we have always preferred the quality of our bottlings, which means that we have less need to highlight, our quality is clearly recognized.
Question, more special … I saw on your site that there is a « tasting glass » own Mr Samaroli, this model is it for sale somewhere? It's also on the cover of « Whisky Erotico » and it sounds like something very specific. Can you tell me more ?
On the occasion of No Age edition 1999, the blown glass « Tasting glass » was screened and realized by my husband 20 years ago.
It was put on sale by us and then we invited the world to imitate it !!!
So, no way to have except perhaps, if someone copied as Silvano wanted.
Last question, do you think that being a woman brings other things to the selection? Could we talk about another elegance or a touch of finesse that men would be less likely to detect? Or do you think that does not change anything, a nose is a nose?
A woman in general has a different sensitivity of the man. A good Whisky speaks the language of emotion. It all depends on the attention and predisposition …
Related Post.