As previously announced, each year will see its release Caroni Employees, these famous bottlings highlighting former workers of the late distillery (and 70cl Caroni incidentally :)).
This year, we've got the first since the repatriation of all casks remaining and since the caroni ceremony last April … This means that aging has been stopped and the blends stored in stainless steel tanks.
If you read the label on the back, you'll see that we would have made these blend with Luca on this memorable day … Not really true, I explain myself.
Rather than assemble the barrels to find the best combinations, we have « just » selected the 13 best remaining casks … which is already a lot of work in the end, because for that, we must taste them all !
Ok, we saw worse as work, I grant you but it still takes a lot of time and it would have been impossible for us to make these blends more during this day. We would have stayed more, but it was not planned like that 🙂
So, it's Velier who took care of this very big part of the work, and so for insults if you do not like it, it's to them that you have to ring!
For this second release, we are entitled to the same vintage as the previous ones, namely a 1996 and a 1998.
I admit that I would have really liked to find a vintage 2000 because I like them pretty well … It's lively, beefy, not super sexy but 100% caroni and I find that the 19 years of aging they go very well!
But either, we do not sulk our pleasure, it will probably be for next year.
1996-2019 D « Sarge »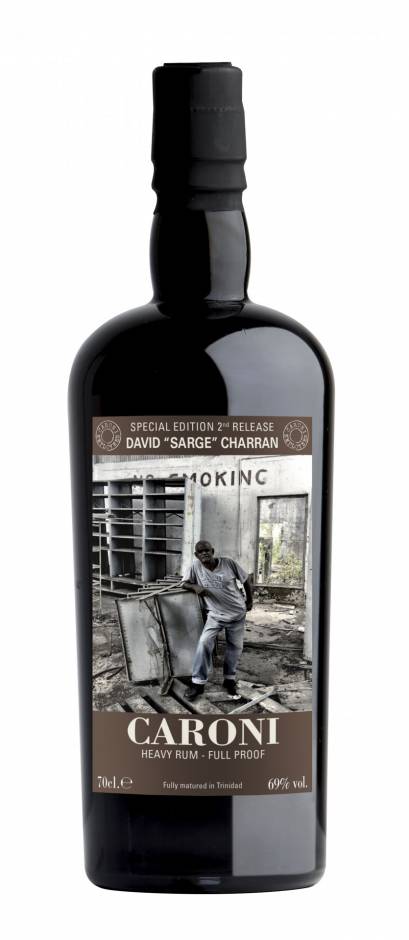 So back 1996 vintage but this time, 23 years old 100% in the tropics … the air of nothing, it starts to not hurt and the last Caroni 23 years old had not left me a memory imperishable…
I hope that we will not have crossed the line separating the woody caroni, greedy and fruity caroni to the wood juice difficult to apprehend …
Titling a big 66.5%, this blend of several barrels is already sold out at the moment despite its relatively strong price.
This 23-year-old version celebrates David Charran known as « Sarge ».
Color
copper, mahogany, brown
Nose
Very sweet, on fruits and mainly woody.
It has the fruity notes of the '96 vintages but overcomes a thick woody veil. The notes of rubbers, milk chocolate, liquorice and menthol take a prominent place.
The fruity, well stewed with banana, bitterness of grapefruit and mango still manages to extricate itself from all this without much worry, over time.
The caramel, leather and vanilla are also part and bring a touch rather round and greedy.
Palate
Despite the 66 degrees, the mouth is rather sweet. Directly the typical caroni side come with the intertwined fruitiness to Caroni's oil and smoke touches.
The lemon is confit, greedy wish … licorice, caramel, dark chocolate powder and a lingering and slightly bitter woody come to complete this tasting.
The length is of course very impressive, it still tastes a caroni!
Price
390€
Conclusion
More marked by time than its predecessor, this caroni 1996 of 23 years needs a nice big aeration to give all its potential.
Personally, I was really afraid that 23 years are too much, but it is clear that the blend works well.
Here we are with the oldest 1996 vintage of our famous distillery closed, and this one is doing very well, reminding me in fact the version of 17 years, more wooded of course.
The kind of profile that may well go from really nice stratospheric once the bottle arrived at half, the oxidation works very well with the caroni.
Score
89/100
---
1998-2019 K « Slippery »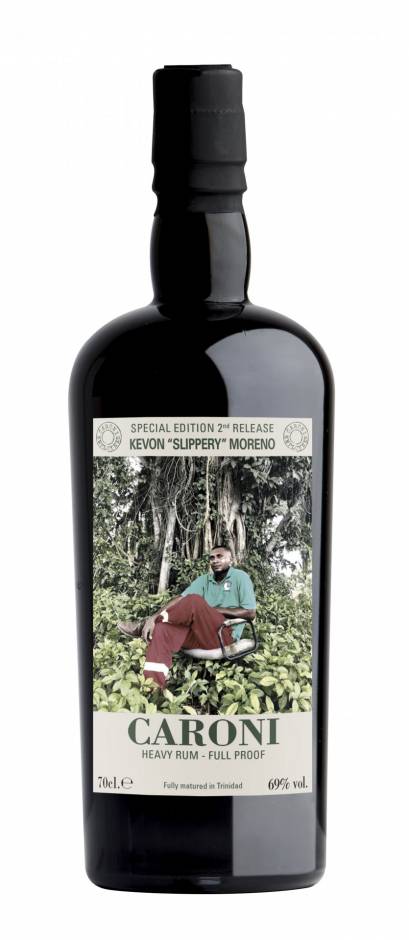 Blending of several barrels of the 1998 vintage, I do not expect anything special from this one, having no real memory of the previous 1998 of last year and having spent my caroni ceremony with 1996 and 2000 ….
It will be with the virgin palate forthis vintage that I attack this tasting.
Titling proudly (because a caroni is always proud, wood juice or not) 69.5%, a nice big aeration will be just as necessary to him as his older brother.
This famous 21-year-old version of Kevon Moreno says « Slippery (when wet, sorry) ».
Color
Copper, mahogany, brown
Nose
Phew, it's « dirty » in there … we immediately recognize the big caroni 1998 and its oil side much more ahead than the 1996.
Burnt caramel, leather, a smoky, salty side take the lead pretty quickly before leaving more crème brûlée, vanilla and some exotic fruits. The freshness of lemon and menthol encloses this nose.
The first nose is rather hard in fact … but the more one goes back there and more this one wants to be charmer, generous and pastry .
Again, alcohol is remarkably well integrated for a spirit that is close to 70 watts all the same
Palate
Lively, rich, warm and typical again …
The smoked is really the marker of this vintage, the first mouth, it is mainly what will remain the most so it is present.
Then come citrus fruits with lemon in mind, bitter dark chocolate obviously followed by oil notes.
The finish is really long, rather marked by the woody. The fruits are more indented on this version than on the 1996. But in general, these vintages are much more typical « Dirty Caroni« .
Price
390€
Conclusion
This 1998 is a caroni that must be tasted with time in front of you, clearly.
The fan of 100% hardcore caroni should find more happiness than in the 1996 vintage. It is very good but can be too « dirty » for me, it's clearly a style.
Alcohol is really well integrated again.
Score
84/100