Back to the encantada but with something a little less classic than usual.

A Del Cassou 1994, we already know and love (the one from 1992 that I tasted for sure), but here with a finish in barrel containing whiskey ledaig.
In theory, it's quite special but hey, after all why not. I just hope it will not be as intense as the HSE Islay finish.
But for the moment, I'm in mode « need to taste other things » , so it's ok for me !
For presentations, Del Cassou is a domain located in the municipality of Arthez d'Armagnac in Gascogne of course.
For the rest I don't know more except that the breeding of Armagnacs would be in several successive barrels, in order to give it more complexity and less tannins … from what I read in any case.
Here, 1994 vintage and refined in a barrel containing a single peat Scottish malt from the distillery Ledaig, all bottled at 48.8%.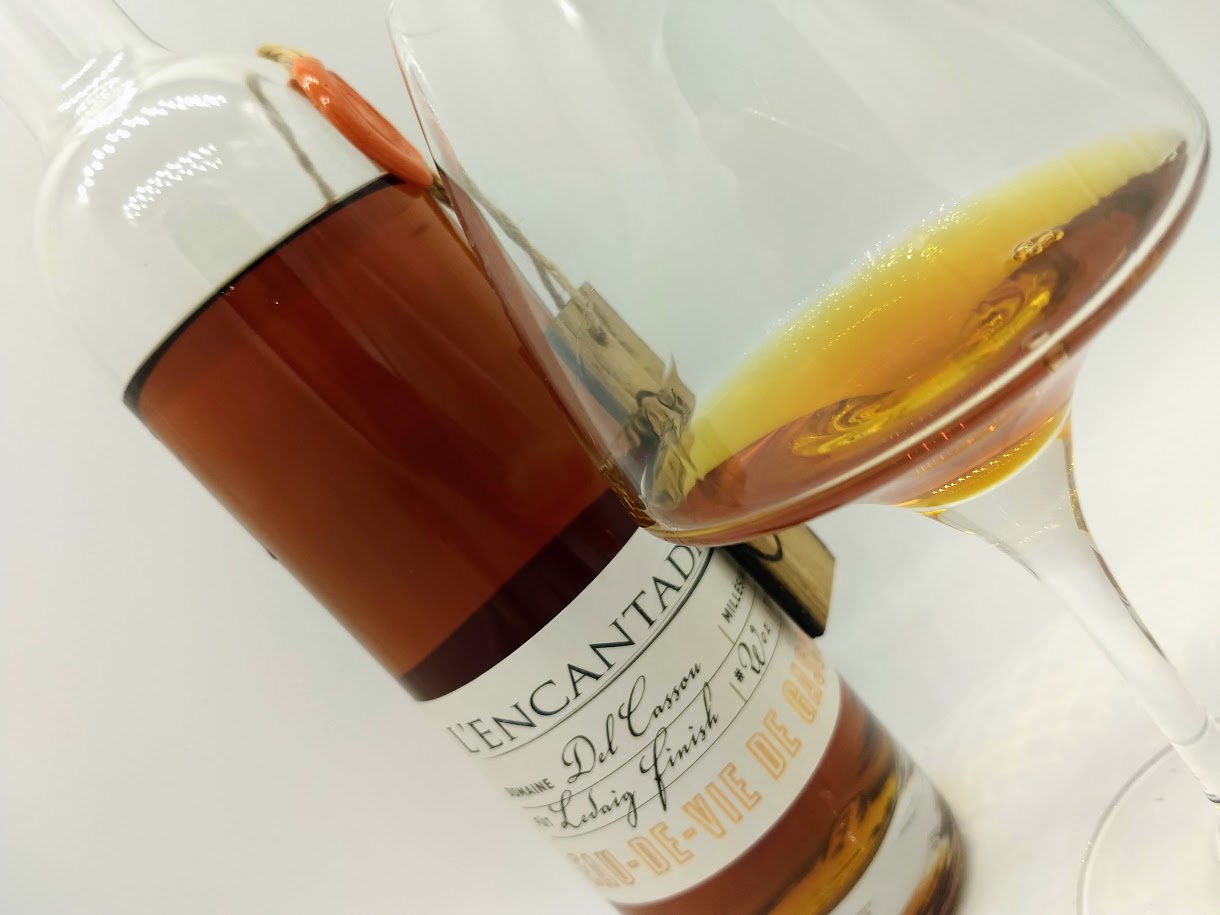 Color:beautiful mahogany / orange
Nose: First nose on marzipan, caramel / salted butter, chocolate, toffee.
It remains very Armagnac and very greedy, the ledaig at the first nose is rather discreet.
Until the moment when the smell of cold cigarettes come to make us doubt …
What is happening ?? Leather and pepper follow directly as well as more herbaceous and peaty notes. Our Armagnac smells more cereal?!?!
The rest is vinous but still with this earth very fat … Really amazing.
So the finish has done its job well, personally it is a little destabilizing but it is felt.
Palatte:cold ashtray … Pwaaaa, what is this thing ??
Pepper, peat, cold cigarette, cold mushrooms (!), and behind this Scottish touch we find our armagnac but it's still very masked.
More fruity notes with well-stewed apricot, tofee, honey and dark chocolate are a little out of there but this peat screen is very (too) present.
It's good for anyone who likes this kind of stuff, but it's very destabilizing.
The length is rather stubborn, on the very dark chocolate and the old Camel forgotten in a used levis 501 a full moon night … ( 🙂 )
Price:109 € for 50cl … it starts to sting anyway, we see that LMDW is there !
Conclusions:I could conclude this note by:
Who poured his ashtray into my Armagnac ??
It would be pretty representative of what I felt during this tasting.
The finishes, I am often shared if it does not bring much and rather disappointed when the product seems to be destroyed by the finish. In this case, the finish seems excessive … but it works well.
Just don't think of armagnac during the taste, just feel what's happening and enjoy. For the little story, this spirit is not allowed to be called armagnac due to this finish..
A nice concept would have been to make a box with two bottles of 25cl, one with Armagnac « pure » and the other with this finish.
Congrats L'encantada, very nice armagn… heu « eaux de vie de Gascogne » 🙂
Related Post.