As for lingerie with Victoria's secret, the world of spirits also has these little secrets of Punchinelle … Its lot of things not to say but that everyone knows, subtle mixture of transparency and « disloyalty« .
Tonight, I speak about one of the largest distilleries in the world, I named the well known « Secret Distillery« .
Few things manage to filter on this obscure distillery, at most we know that it is implanted in a large number of countries. That this one would have been created between the end of the 17th century and 2008 by a certain Jean Sèrien.
Yes, the news are lights, but with our national Jean-Noël Roudoudou, we conducted the investigation and found traces of Alain Cognito, cellar master of the Cuban subsidiary of Secret Distillery.
As he explains to us, this distillery would have as much, even more, stills than DDL. We are talking about very different stills with each their specificities and their own identity.
In addition, he even explained to us that Secret Distillery distills both rum high esters, agricole, grand arôme, molasses as peated whisky and not peated for example, what talents! All often matured with finishes of all kinds.
And yes, we can find big Speyside, Jamaican, Cuban, Sherry finishes, Madeira etc …
---
So, stop jocking, this small text being just there to put a light side to this note.
But behind all that, there is a reality that becomes more and more awkward in these hours when everyone asks transparency.
Indeed, under the (logical) pretext of intellectual property, trademark, logo etc, some distilleries don't hesitate to prohibit the use of their name by independent bottlers. In fact, this one feels too often cheated and put on front of products of which they have more the hand since the sale of the juice.
So seen like that, actually I can understand that Worthy Park, for example, doesn't want to be associated with a bottling of a rum finished in a cask « Bolognese sauce » for exemple … Something that would never happen in these warehouses and which I strongly doubts the interest.
So, the only way for them is to prohibit the use of their name and logo … Obviously, no other choice …. Real ?
Of course there is another choice, that of no longer sell its rums to European brockers … but that's not to good huh ! it's easy money and they really don't want to deprive themselves.
So, because of all this, we find ourselves more and more with independent bottlers who offer us « Jamaica Rum-Secret Distillery« , « Cuba Rum-Secret Distillery« , « Vale of Lluidas' Rum » etc …
So, more worries, we can always sell the rum and if the bottler does shit with, we don't care because we are not associated with that. So, I say it's bingo!
Except maybe consumers in fact … but yes there, remember, the guys who buys the bottle with their money !
Because yes, the lambda guy who is behind the bottle in a shop, well he does not know what he drinks … ? Secret Distillery, the kings of blind tasting 🙂
While it would still be much easier to just specify the place where the rum comes from and when he left … and zou, we fall direct on a common ground, the mega compromise as Belgians does in a few ways!
In the example above, you will excuse for the quality of the labels, it's just for the example, we can notice that the first two are really not valid. Neither for the distillery nor for the consumer.
The first, without looking too much, we see that it's a Worthy Park finished in Bolognaise cask (it must be diabolic)… So indeed, Worthy Park doesn't want to be associated with that. And they are perfectly right on this point.
The second is already much more correct for the distillery, but hey, the guy who hates Hampden can really ask a few questions … so basically, buying blind. It is bad and painful for him (even if the Bolognese cask should convince him not to buy, but it remains an another story)
The third is the one that seems the most transparent and the most logical for everyone … We see more often the first two than the third. And that's where I'm not agreee !
When is a decree or law protecting consumers AND distilleries be created ? We need correct informations on labels, simply !
But it is clear that for the moment, we have more and more bottling from « Secret Distillery », and that, really it becomes bad!
As long as I was there, I still tested two of their bottlings, here are their stories.
1423 SBS, Brazil-Barbados MOSCATEL CASK 52°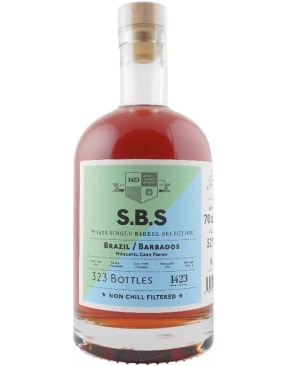 Here is what you can read on excellence rhum about this bottling for example:
« A marriage of South American and Caribbean rum. This is one of the most experimental editions with only one drum! The blend received a Moscatel finish (sweet white wine sweetened from Portugal) making a very interesting result.« 
Titling 52%, this assembly at an age of 4 and … well, it's all about it 🙂
So we don't know a lot of course and we have to buy this bottle without clear informations.
Color
mahogany, orange, copper … a nice big rum well marked.
Nose
We fall directly on a oily profile, hot and generous… we find quite quickly well cooked fruit, woody, citrus fruits such as bitter orange, lemon and a very soft side for the 52% announced.
Milk chocolate is rather present, a side coconut, caramel, brown sugar and some spices come to complete this table, very round and engaging.
The end of the nose is less sexy, a big bitterness emerges and spoils a little all.
Palate
Round, generous at will and slightly pungent on the end of mouth …
I imagine that Foursquare should not be very far, there is indeed a lot of similarity with the last 2005 and 2007.
The set seems still quite lively, is the Brazilian side, no idea but it works pretty well as a wedding.
I would say that the vinous side is nice but would tend to make it a little sickening, like a 70th birthday destino for example.
There is a lot of fresh fruit, stewed fruit, caramel, brown sugar but also a more vegetal passion.
In fact, it would have been very interesting to do without finishing … personnaly, I have one may be fed up with all these finishes, but hey, one article at time!
Price
122€
Conclusion
Well, it's good but it can get slightly sickening down the length … and then, it costs a lot this bottling, as long as I'm doing it on a 2007 Foursquare that costs half the price.
In any case, it goes well and the watts bring a big fat peps … too bad for this price, really, because to put 122 € for something that goes well, it's still a bit sad.
Score
84/100
Rum Artesanal, Trelawny Double Cask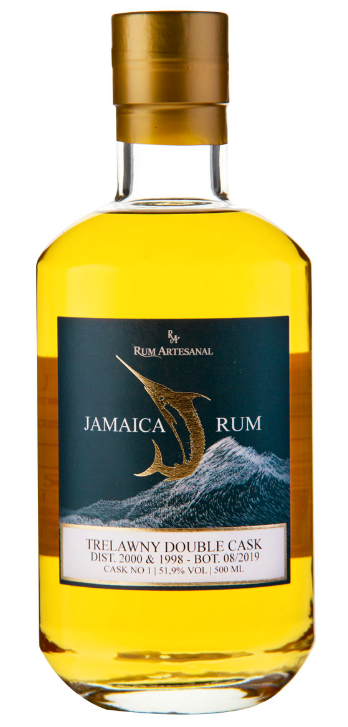 Another blend of two Jamaican distilleries, totally unknown but located in Trelawny
So ok, in this case we suspect that it is Long Pond and Hampden. But well, it could be 2 long pond or 2 hampden … again, it would be so simple to mention the names of the distilleries. (ok, there is « H » and « LP » on the back label, so ridiculous to have to do that)
Assembling a Hampden 1998 and Long Pond 2000 drum (or the opposite? Boh)
Titling 51.9%, this rum was the starlet of last « German Rum Festival » and was elected best rum of the festival ..
Color
very clear, more towards the straw than anything else for two juices still reaching 20 years average.
Nose
No doubts, we are on a pretty funky profile with lots of fruit, olive, solvents, vanilla.
The 51% are present on the nose, breathing too close may leave some traces … after that is not too embarrassing, but we feel that we must go molo.
With a little time, the lemon, the ripe banana and some iodine notes appear. The profile is quite pastry, brioche, buttered and fat … it really remains Trelawny style.
The spices come next with pink pepper and a touch of ginger.
The nose remains accessible, very typical and acidic.
Palate
Funky, again we do not doubt for a moment the origin of this bottling …
Most of the markers are determined on the nose with a beautiful smoky / woody retro-olfaction.
It's pretty good for fans of this kind of high esters, or middle esters say we because it remains content.
The olive is still quite present and the finish is rather astringent on a rather drying woody
Price
65€
Conclusion
Surprised enough to see a price so nice for rums of + – 20 years of age all the same … I think that Jamaican rums lovers should really appreciate this kind of thing.
Well done !
Score
86/100