Detour by Martinique, and more specifically to the Habitation Saint Etienne that I particularly like … Just like the rest of the island in fact, but that you had already noticed I think no? 🙂
Recently a good friend came home with his brand new HSE 2003, the last bottling … the opportunity was too good, I decided to ask 3 centilitres to make a comparison with my version bottled in 2015. 4 years more for 2 rums put in cask the same day, it's not nothing 🙂
What will this tasting teach us? real evolution? Decrease in quality because too woody? less power… well, let's go!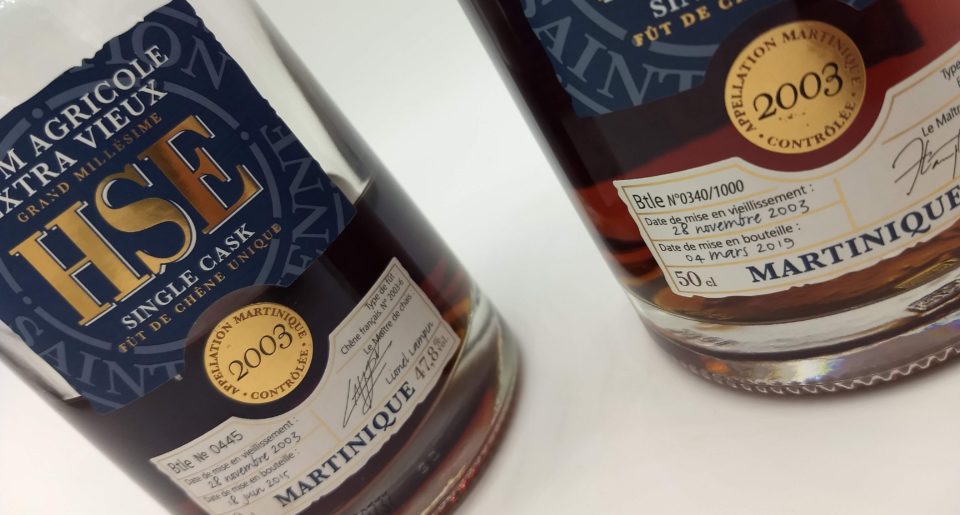 HSE 2003/2015
Bottled on June 18, 2015, this makes an aging of 12 years in the cellars of the house, under the sun so tropical.
Titling 47.8% and bottled in 50cl, I think this version is one of the first in fact.
Color
Mahogany, relatively dark
Nose
Confected fruit, ripe banana, prunes, hazelnuts, mokatine, chocolate, coffee, Christmas spices and a woody end are the first things that come to mind when I smell this beautiful rum.
Hot, opulent and greedy, this seems to be the main adjective of this rum.
With aeration liquorice and tobacco come to show the tip of their nose and a nice sweet caramel.
It is very rich and pleasant, really engaging!
Palate
Sweet, sweet, greedy and warm… We have here a rather generous rum, marked by the wood among others.
Tobacco mixed with liquorice, vanilla, cane sugar and a nice fruity make this rum a rather complex juice.
The alcohol is well integrated, leaving room for the pep without being too forward and the juice is sufficiently fat to line the palate with its presence.
The finish is rather tannic and chocolate … can be too dry in fact.
Price
80€ (in 2015)
Conclusion
Very nice single cask, nice, generous and warm …
I'm rather a fan of this profile, it remains an agricol rum rather « heavy » in fact.
The elegance may not be his number 1 adjective, but it does the job very well … just may be too tannic on the end in fact, it spoils a little my pleasure.
Score
87.623/100
---
HSE 2003/2019
This version will have aged 4 years more, to bring to 16 years the number of years spent in cask for this version.
Strangely, he also contains 47.8% abv ?!?
Color
Really the same in fac, It's pretty amazing.
Nose
The nose is just as warm and greedy with lots of spice, tobacco, liquorice, vanilla, but it seems to me that the fruitiness is more on the exotic fruits and slightly less on the prunes.
It's more floral too and it gives a more « feminine » nose (Sorry Christine ).
I even find a side Cola in fact, with a thin veil of menthol that brings us a nice freshness … it's very nice.
Palate
The 4 years older have strangely made more fruity and less tannic … so, a barrel is not an another.
The fruits are really present, lush, mixed with beautiful Christmas spices, tobacco and licorice.
The juice is just as oily and plate as big brother but the finish is much softer, more elegant, less tannic although the noble wood is present.
The Cola candy is always present and gives this spirit a very beautiful greedy side.
Price
+- 130€ I think, not available yet in Europe
Conclusion
Superb version of this single cask 2003, master purchase for me so I find it well done. A very big one.
Score
90/100