2019 is already well established, the moment is finally arrived to taste the 3 news 2019 from Habitation Velier ! Small novelty this year, we are entitled to a linup 100% Jamaican with two new destinations.
Indeed, Long Pond and Monymusk joining the beautiful team formed by Hampden and Worthy Park since the beginning of this new collection.
On the menu, 100% Jamaican Pure Single Rum with:
A new mark for Hampden, with HGML from 2010
The TECA 2005 from LongPond
OneMonymusk 2010 EMB
The whole being proposed in Hardcore mode with a voltage to 62% for the three, prohibition to swallow of it otherwise it risks to sting a little 🙂
Before starting, these three rums will have remained 45 minutes outdoors, in ordre to tell something other than aaaaargh
Hampden 2010 « HGML »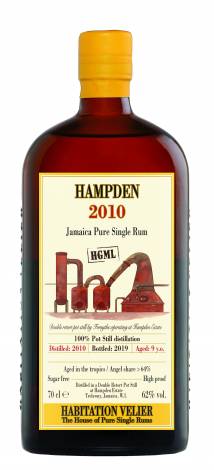 Distilled in 2010 in the venerable Hampden House, this rum will have aged slowly on site for 9 years, losing 64% of its content.
The HGML mark would be just above <H> in terms of ester content and therefore rather exuberant … With 62%, it seems calmer than the HLCF which was, for my part, too high in alcohol.
For the story, HGML stands for Hampden George MacFarquhar Lawson, in tribute to a former owner of the distillery … but hey, it's really for the story 🙂
---
Color
Rum rather clear, but rarely seen as oily in fact.
Nose
Classic Hampden I would say, with large pasts fruits, a hint of oliva, vanilla, solvents, pepper 5 berries (see even 6 in fact), a tapenade of anchovies …
It's rather sweet, creamy … But this olive / iodine is still very present.
The woody is rather discreet and the testimony of the passage in barrel is county by vanilla and nutmeg .
Palate
Powerful on fruits including pineapple in the front and ripe banana.
The anchovy tapenade, the smoke in retro-olfaction, nothing to say it is a hampden!
Rather creamy and oily at the end of the mouth, a acidity on the lemon comes to end this tasting.
It's strangly curved in fact 🙂
Price
130€
Conclusion
Very nice version of Hampden, surprisingly curved and almost accessible compared to a HLCF for example.
I must admit, I didn't really trust this one but it's clear, that's probably the best hampden you'll can found at the moment.
This is not really a « daily dram », but the violence in the tasting seems much more moderate.
Score
88/100
Long Pond 2005 « TECA »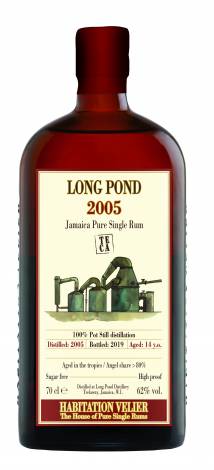 This juice was born in 2005 in Trelawny too, but among the neighbors of Long Pond this time.
Aged on site for 14 years, this makes it the oldest rum bottled by Habitation Velier, losing 80% of the juice. Please welcome the concentration!
From its 62%, it seems to have been slightly reduced because the 3 have the same voltage … coincidence?
The mark on the bottle mentions TECA, like the Long Pond 2003 released last year … and it seems like something for psychopath with completely crazy esters, between 1200 and 1300 g / hlap!
---
Color
The darker of the lot, it makes me think of a more greasy enmore
Nose
Heavy, powerful, complex and rich … A demerara under amphetamines in fact.
There's oily, grilled, smoked, caramel … But with a big acidity pineapple / papaya / raspberry vinegar and well peppery.
It's a little bit like thinking about the blend of Guyana / Jamaica of twelve.
Disgusting limit as this pineapple is present.
Palate
Pwaaaaaa what is this ??? … Strawberry tagada, solvents, glue, coconut, vanilla, bitter wood, iodized, olive.
It's a herr / port mourant actually this juice 😅
It's really super complex, amazing what's inside. Really a detonating cocktail!
Really extreme one… too much in fact.
Price
170€
Conclusion
Well, the guy who liquidates this bottle in less than 2 years, will have to explain me how he did.
Bad it's not, it's even rather interesting … but it's still far too extreme.
So yes, I'm glad I've tasted that, but really, I find it just too exaggerated.
This is clearly not the kind of rum I'm looking for, it pulsates, it kills but I do not really see where the fun is actually …
Score
82/100
Monymusk 2010 « EMB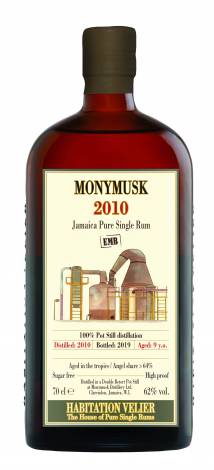 Last novelty, Monymusk and this rum aged 9 years in tropical climate and also grading 62% … really, I do not think at all that it is a coincidence, and that reassures me because suddenly it means that Luca seems to have decided to calm a little the game of the race to the watts, it's very good!
The mark EMB comes from Bog Estate and can be considered as a Wedderburns, ie more than 200 g / hlap for a rum with aromas more full-bodied / heavy, a fruity more pronounced and spicy (pungent). A heavy rum (thank you durhum)
---
Color
Already more mahogany than the hampden, amazing for a rum of the same age.
Nose
The legend is not wrong, it really smells like mushroom!
But not only that, personnaly I find him a rather floral side in fact, which avoids us to leave in a too earthy side.
Bourbon vanilla is also a good bet as well as a lot of spices including white pepper.
The fruits are there too with coco, but more withdrawn I would say..
Palate
Very focused on vanilla, coconut, caramel cooked … It's quite confusing compared to the nose in fact.
By cons, the length is not incredible except a small tip of olive / smoked.
Disgusting limit actually … Very greedy, very spicy too but in the end a nice surprise. I find a little foursquare side but in no control mode in fact 🙂
Price
110€
Conclusion
Really good one, really … Personally I find it very interesting, can be a little powerful, it would have been nice to taste it at 50/55% I think.
Score
86/100
Related Post.