Lately, I fall in love with Chichibu and their terrific whiskies… The IPA cask finish was really fantastic for exemple. They are the neisson 's one from Japan 🙂
So when a friend gave me a sample of Hanyu 2000, I was really excited cause Hanyu was managed by the grand father of Mister Ichiro Akuto, the mastermind of Chichibu. Yes, the world is small 🙂
After some search on the web, here a short history of Hanyu:
The Hanyu Distillery was founded in 1941 by Isouji Akuto, a descendant of a long line of sake producers. Located northwest of Tokyo in Saitama Prefecture, the Hanyu Distillery built in the city of the same name, is surrounded by vast rice paddies supplied with water by the Tone River.
It was not until 1980 that the production of single malt was launched, thanks to the purchase of two still pot stills. But the success is not at the rendezvous and the distillery stops producing whisky in 2000, and will finally be destroyed in 2004.
The remaining stocks previously stored on the site, were recovered by Ichiro Akuto (grandson of the founder of Hanyu) helped by a sake producer Sasanokawa Shuzo who stocked them until 2008 when they were transferred to Chichibu in the whole new distillery founded by Ichiro Akuto.
So it's the Caroni from Japan 🙂
Here we have a hanyu distilled in 2000 and bottled at 58.8% on 2015 by…. yes, la maison du whisky indeed…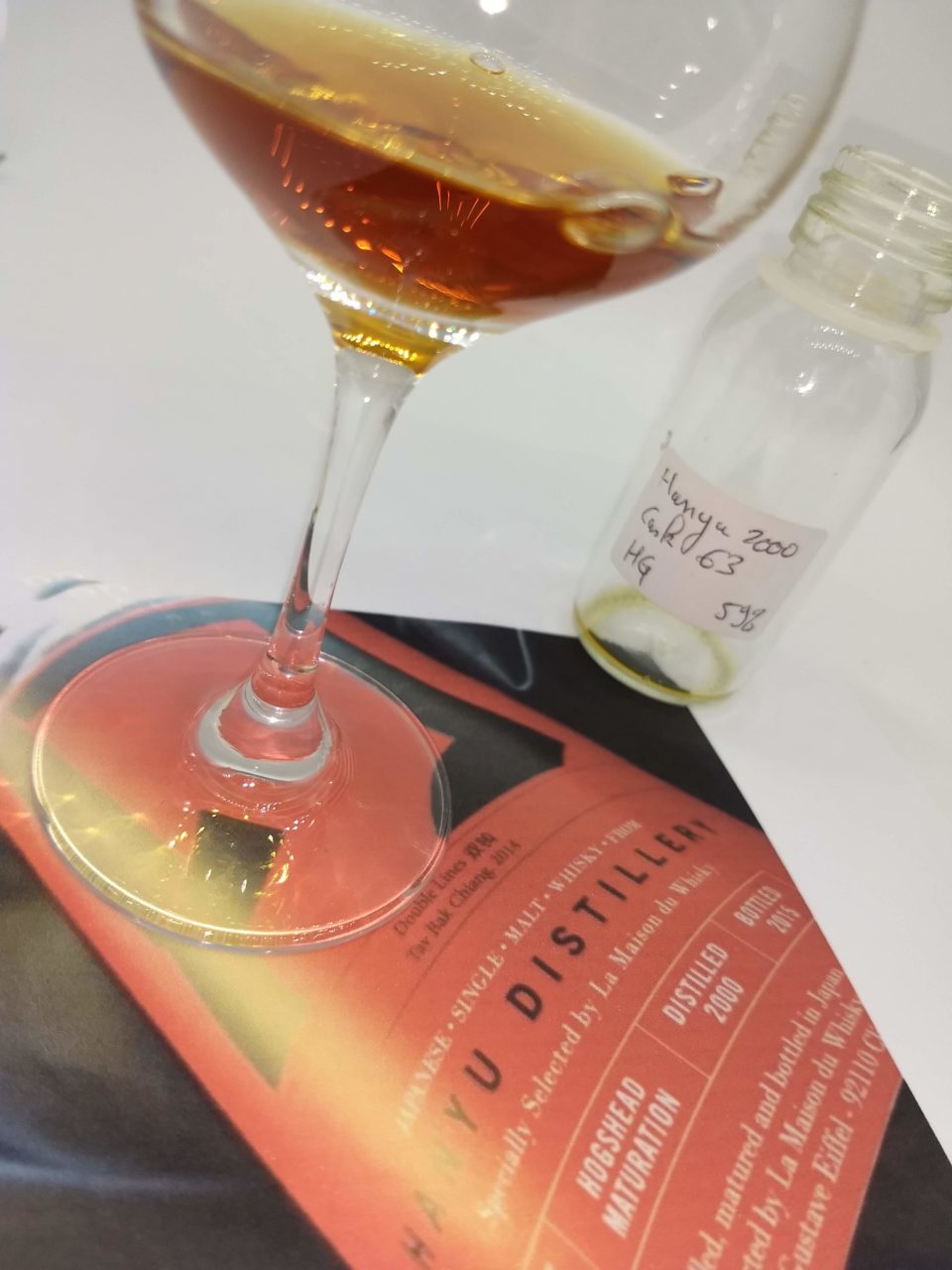 Color: mahogany, amber
Nose: the first thing I get on mind when I smell this old malt's samouraï is fresh botter, toffee and malt of course.
The juice is heavy, concentrate and powerfull without being not balanced.
Honey is there but spread on a big piece of meat. Yes, it's like a baked ham… I know, it's stupid but it's what I feel 🙂
With time, floral aspect are coming making this whisky more perfumed. Some chalk emerge from this strange mix.
Palate: powerfull with reminiscence of Caroni as the caramel is burnt… The chalk is still there with honey and my baked ham that should be well cooked now 🙂
It's acid, concentrate, oily. Flowers and exotic fruits (mango) are back with time and replace this bestial aspect.
I think the palate is less sexy than the nose, but it remains a really good experience.
The alcohol is very well balanced.
Price: 🙂
Conclusion: a charming nose from barbecue to fruits and flowers, it's quite strange but it works very well.
The palate is less convincing but the whole tasting is a very good one…really!
It remaines something really exceptionnal to receive some cl from this closed distillery, thanks a lot to my friend, it was really « enjoying ».
Note: 十七 /20