Back (to back) on the blog for the first review of 2019… and for this one, I've reserved you one of the « mother of all unicorns« , the Long Pond 1941 !
So here we are with this monster, a rum from Jamaica that was distilled on 5 may 1941. This juice was aged 5 years in tropics since 1946 and shipped to UK just after the war. I imagine England had others things to do during these sad times…
It only appears on G&M's warehouse on 1967 after 21 years on the road…. wawww, longest world tour in the world 🙂
Bottled by Gordon and MacPhail in 1999, it makes this rum as one of the oldest in the world with 58 year of (continental) aging. The cask was shared with italian's bottler Silver Seal.
With 50% abv, this old rasta seems to have kept all his impetuosity… good thing I think, 40% would be a shame.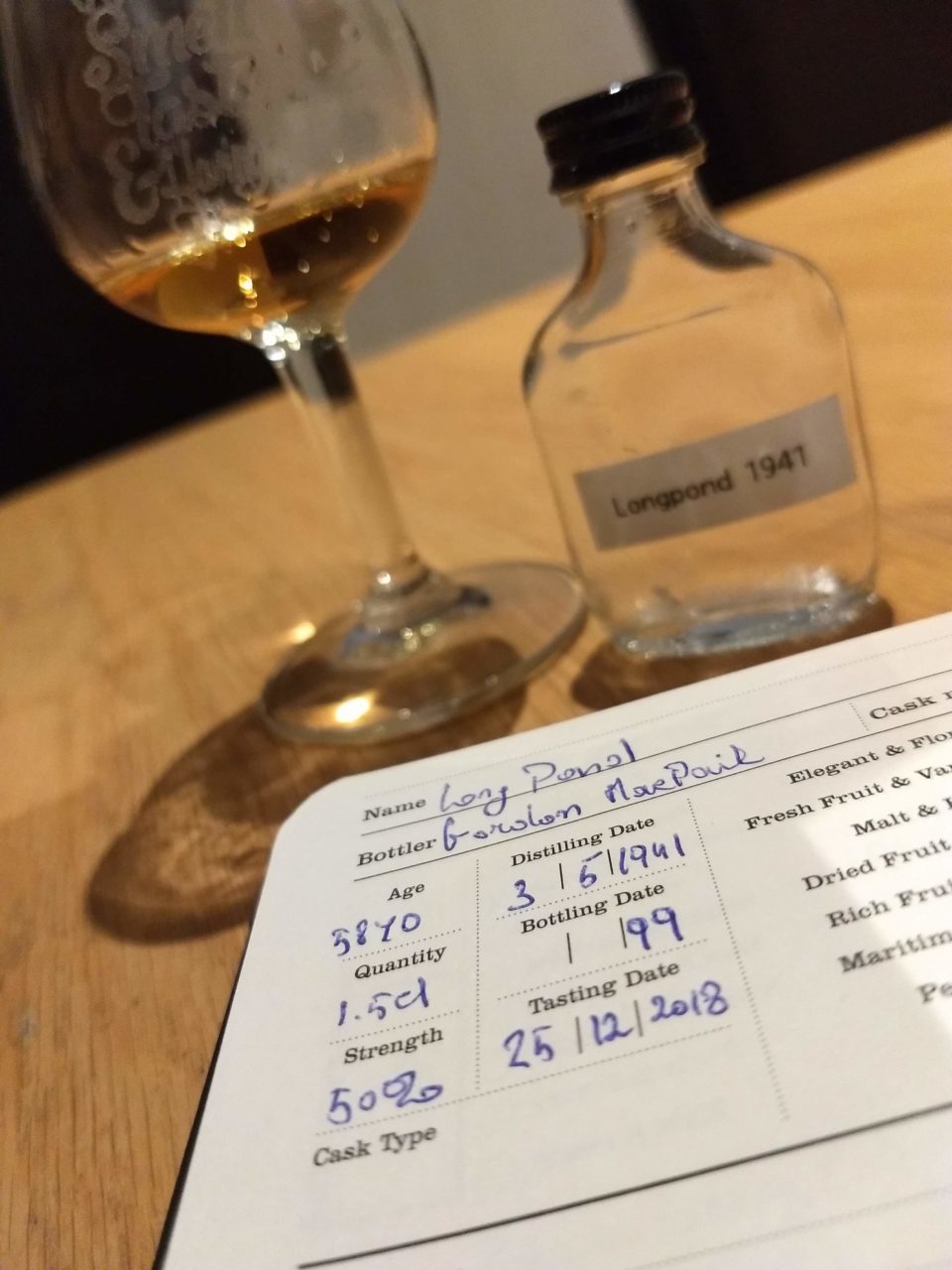 Color: light gold, very oily. Drops are stick on the glass… but where is the dark rum of 58 years old ?? 🙂
Nose: Glue, green apple, pineapple, citrus, orange, herbal flavors are the first aromas of this rum. I'll give him some time, I think it needs that.
After 58 years in a cask and 19 others on the bottle, it could wait some 45 minutes on my glass I suppose 🙂
Really sweet, smooth with brown sugar and botter. It's also fresh with eucalyptus and citrus again. Dark olive, some tabacco and smoke appears with time.
The nose is light, not an exuberant jamaican rum as an high esters from hampden for exemple. Really sweet, class and elegant one.
But were is the wood ?? 58 years on a wood barrel and only some vanilla and tabacco flavor, it's really impressive.
The alcohol doesn't agress you at all… only love and kindness 🙂
Palate: really sweet again, smoked, vanilla with a finish on the olive.
Citrus fruits, butter, a light oak, tobacco, spices (nutmeg), dried fruits with a slight hint of nuts and eucalyptus.
Really sweet and smooth, fine, oily, this one is a perfect exemple of well balanced rum.
Conclusion: everything in this rum is just 'equilibrium', it's amazing… wisdom is so just a matter of age ? 🙂
It's really strange feeling to taste so old vintage alone on my salon… I imagine the workers on Jamaica 77 years ago.
The world was on fire on this time, Jamaica was an England's colony and my Belgium was no longer belgian, millions of people were frightened… but one positive thing to remember about these sad times is this Long Pond, for sure.
Note: 18/20
Others: