Haaa, it's time for a powerfull demerara rum tonight… It was a long time isn't it ? 🙂
So here we are with the 2 new bottlinsg from « le Gus't » in France… France ? yes, the land just below Belgium 🙂
So they were bottled in late 2018 after 16 years of tropical aging in Guyana. 2 versions are proposed, an optimum one at 60% and a full proof at 66%. The two are from the same cask.
---
No marks are mentionned so it could be port mourant, versailles, uitvlugt etc etc… no idea but it could be important so the differrence between them are big. We'll see that !
On the label, lot of informations and a name, Cuffy… what' that ? It seems to be a local hero that lead revolution in 1763 on place. So it's cool, we've learn something new today 🙂
---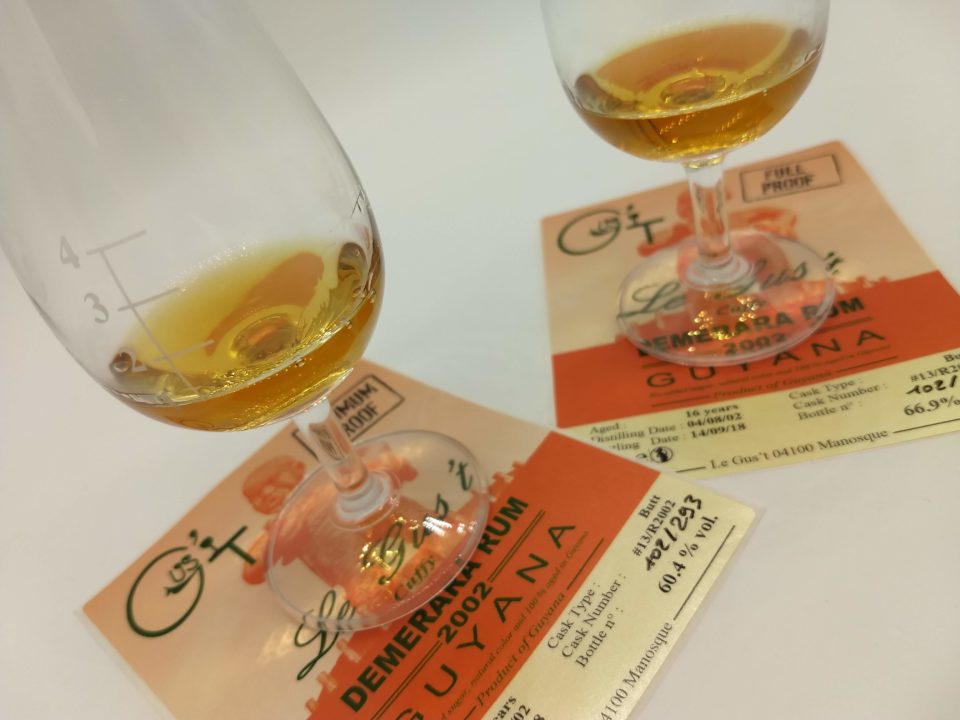 Optimum Proof – 60.4%
Color: brown gold, some light drops are visible.
Nose: lot of caroni in fact 🙂 burned caramel, tabaco, wood, brown suger, spices, vanilla, muscade nuss (herr muller !).
Some herbal touches are present and there is smoke, roasted but fruits are there too with apricot for exemple.
Blind taste, it's clearly caroni for me.
Palate: for a 60% abv it's « sweet », first good news 🙂
Still Caroni with an oily juice with caramel, muscade, vanilla, chocolate powder and hydrocarbure.
The final is very long on dark chocolate. Miam and re miam ! It's really tasty, I like this carorara 🙂
Price: 149€
Conclusion:what to think of this demerara except that it really looks like an cool Caroni? Well, in the end, we don't care , what's important is that it's really well done !
Note: 17/20
Full Proof – 66.9%
Color: brow, very bold. Drops are scotched on the glass.
Nose: raw…. yes, it's full proof ! Less Caroni than the optimum, the place for fruits is bigger.
We have some glue, vanilla, fruits, peper, tabaco and roasted pinneaple.
Smoke is still present and caroni shadows are not far away but it seems less evident… but it's quite logical, it's a demerara rum, don't forget it !
Palate: bam, the big caroni in your face…. pwa, it's good 🙂
it's smoky, oily, bold, fruity and powerfull. Yeah the 66% are there but your tooth could resist I think. Not for children (in fact, the optimum one too… and alcohol in general is clearly not recommended for them but you know that)
the final is very very long on dark chocolate, wood and dried herbs.
Price: 165€
Conclusion: More fruity than the « optimum » version, this full proof really impressed me. Very nice bottling!
Note: 17.5/20
Caroni ?
Yes of course, I put the name Caroni several times during the tasting…. so for a demerara rum is quit strange no?
Some albion have this caroni side too…. but, it could be cool if it was really caroni from 2002 vitage no ?
Caroni was still operating on this year, so it could be possible that some casks have landed in Guyana ?
I don't know, but if one legend like this appears, I wouldn't supprised 🙂
Related Post.