August 6, 1962, Jamaica becomes officially independent and thus leaves the British empire.
The Queen is moaning, Jamaicans continue to make rum and Bob Marley records his first song Judge Not.
To worthily celebrate that, Appleton decides in 2012 to release a nice carafe with a rum distilled that year. Celebrating Bob's first song with such a monument seems exaggerated, but … why not after all.
Yes, just that, a rum that has been aged 50 years in the tropics, which makes it technically the oldest rum in the world (a long pond of 58 years of age also exists but high in Scotland for the most part) .
800 bottles were produced out of 13 casks, all in a beautiful carafe from Glencairn in England.
As explained by Joy Spence, the cellar master, these barrels were kept all the time in a different place than the rest of the productions.
They've been limit chained to the ground to be sure not to lose them or beeing used for something else. Joy had further been explained that her place would not hold very long if these barrels would be lost … .Gloup,
Welcome stress and we imagine the positive issue for her when this rum has finally been bottled!
She also tells that she tasted these barrels twice a year to check the quality. What for a professionalism 🙂 !
At the end of the aging process, this rum composed of a blend column / pot still has been double cold filtered to remove the woody extra.
So wise decision of the distillery …. it's not enough to age its rums, the ultimate goal is still that they are drinkable and the Jamaican expertise to do it well is no longer to demonstrate.
An addition of caramel has been found … I know that it doesn't please to everyone because it is not mentioned, but me personally it shocks me less.
A rum of 50 years must, in my opinion, undergo some « adjustments » to be pleasant.
We are not in the same logic as other « producers of rums » that sway everything and anything to make their alcohol look like rum. Then, we talk about Appelton here anyway! But I can understand that it bores …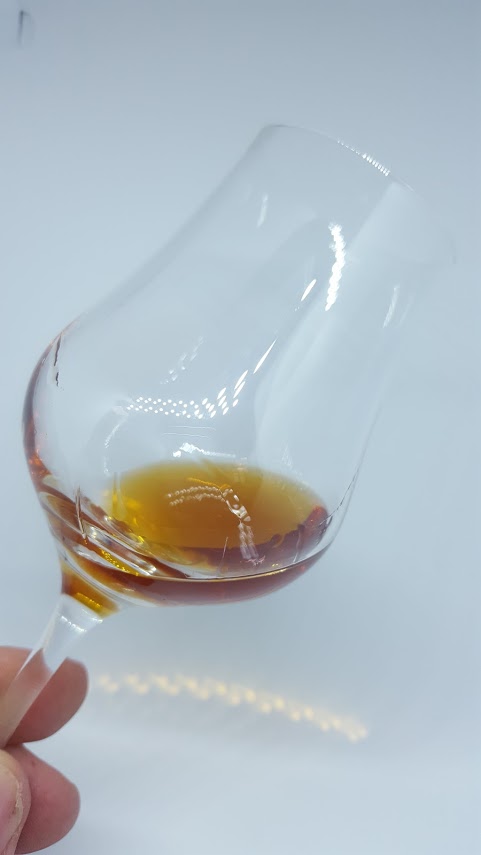 Color: Old rum, darker color … so it makes sense to find a rum rather fat, thick and dark.
Nose: The nose is very charming, on lacquer, camphor, old glue, vanilla, orangetta. Spices are of course part, as often at Appleton.
Aeration gives it sweeter, caramelized, fruity aromas (cooked banana and mango), dried fruits, menthol and honey. A light smoke accompanies us all along this journey.
This nose is really sweet and far from being a wood juice … double filtration seemed to be a very good idea in any case!
We find the old Jamaican side in this rum (say like that, it is limit pretentious no?). Yes, I already had the extreme chance to taste two very old jamaican rums including a Wray & Nephew and it reminds me the same.
It's beautiful and dirty at the same time … it's not easy to explain but there is a very warm, pastry, mixed with the feeling of old garage.
Palate: The palate is rather bold, sweet… vanilla is present. A big side « frangipane » is present but I can not describe it better.
The ripe exotic fruit comes after, on the banana, the coconut in strength. Gingerbread and minty freshness complete this picture. The final is on liquorice, this rum is so chewy it is creamy.
The length is rather strong … it's not Caroni but the addition of sugar found does not kill the final I think.
Empty glass: This one leaves us a nice sensation of ashen, grilled, caramel burned, grilled coconut …I do not think to wash it, I'll leave it under a bell to breathe it from time to time!
Cost: That's the only 'small' problem in fact … we are between 4500 and 5000 € the bottle.
But honestly, if I could, I would not deprive myself of it. The symbolic and limited side of course explains the price, but 50 years of tropical aging, work before and after are clearly not for nothing either.
I think I tasted tonight the rum that will have struck me the most emotionally. Most rums lovers have a bottle of Appleton 8 or 12 years old dropping in a corner of their cellar.
This is still THE great classic and taste here this rare and timeless vintage is just magic …
Still a little reading?