Back in the region of Demerara with the Uitvlugt 1991 from Rasta Morris, new bottler in the world of rum.
Yes, Rasta Morris is the « Rum » version of the Belgian Whiskey bottler, Asta Morris, to whom we owe Chichibu, Caol Ila, Glen Keith and so on.
Here, it is the very last baby of Bert that I propose you, a venerable uitvlugt aged 26, distilled in 1991 and grading 58.8% of alcohol.
Aging should be continental based on the fact that Demerara Distillers has only offered 100% tropical selections to Velier.
Therefore uitvlugt, closed distillery since the late 90s, is particularly known by aficionados of rums because it will have housed in it the famous Port Mourant still and a column Savalle. The whole thing is now in the only distillery of DDL, Diamond Distillery.
So It may happen that this uitvlugt is actually a Port Mourant, or not … as often, no certainty because the mark is not specified.
For my part, the shadow of Port Mourant will still slightly hover throughout this tasting but with the beautiful aspects of it. I explain that to you.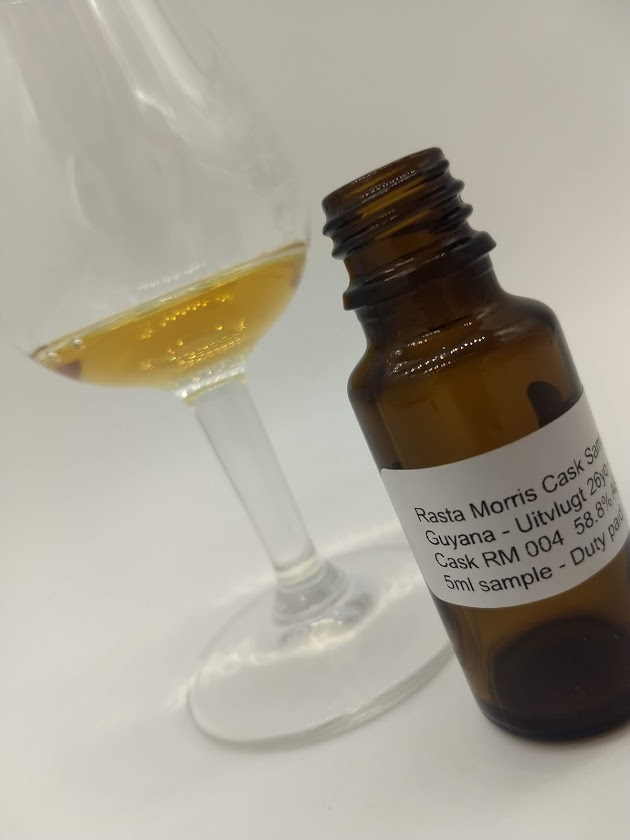 Color: quite classic rums aged in Europe, this uitvlugt is quite clear, drawing on white wine.
The 26 years locked have not turned into « dark demerara rum », so I imagine no addition molasses when setting the barrel.
Nose: Very fruity with white fruit such as pear, apple, grapes and a hint of quetsche.
Exoticism is present also with a beautiful pineapple. I don't find any trace of coconut or solvent as on the monstrous 1997 uitlugt of Velier for example.
The brown sugar adds a slight touch of gluttony to this beautiful basket of fruits, it is very appreciable as a nose!
Finally, a nice spicy note with pepper in the head and a slight vanilla, liquorice and rubbery rather typical.
Immediately, this nose makes me think of a Port Mourant. Just this bitterness with which I have so much trouble but who does not seem to be part of it.
So it suits me strongly, but doubt seems allowed …  So, it would not that I don't care 🙂
Palate: rather sweet, alcohol is very well integrated.
We find directly the aromatic palette of the nose with fruits, brown sugar, rubber and spices with pepper in mind.
The dried fruits and the wood are also part and bring a more austere side but far from being unpleasant to this very fruitful uitvlugt.
The final, long enough, still leaves a touch of bitterness that evokes me … yes, Port Mourant again.
When I tell you that the shadow of this venerable alembic hangs over this tasting.
Price: 230 € … yes, it's not cheap but it's still a very old stuff
Conclusion: very nice selection for a beautiful continental uitvlugt. We are light years away from the big demerara that stains, more in subtlety and complexity.Proof again, if necessary, that the demerara rum are incredibly rich.I like a lot!
Still a little reading?
Sebastien talks about it here