Hubert Corman is one of the Trois Rivière's collector best known in the world of rum. 
To have a private bottling was something logic but strangly we had to wait until now. In december, the wait is over, the Trois Rivières 2005 will be available through his shop and some other resselers in Europe.
After some discussion with 3R, a meeting was planned with Hubert and Daniel Baudin during the rhumfest in Paris. 3 samples were presented according to his criteria and this 2005 was chosen with heart..
Something unique with Trois Rivières, Hubert could change the labeling from the classic 3R to his own vision. Same for the boxe as you can see in front of this article.
Color: Brown rum as an old desk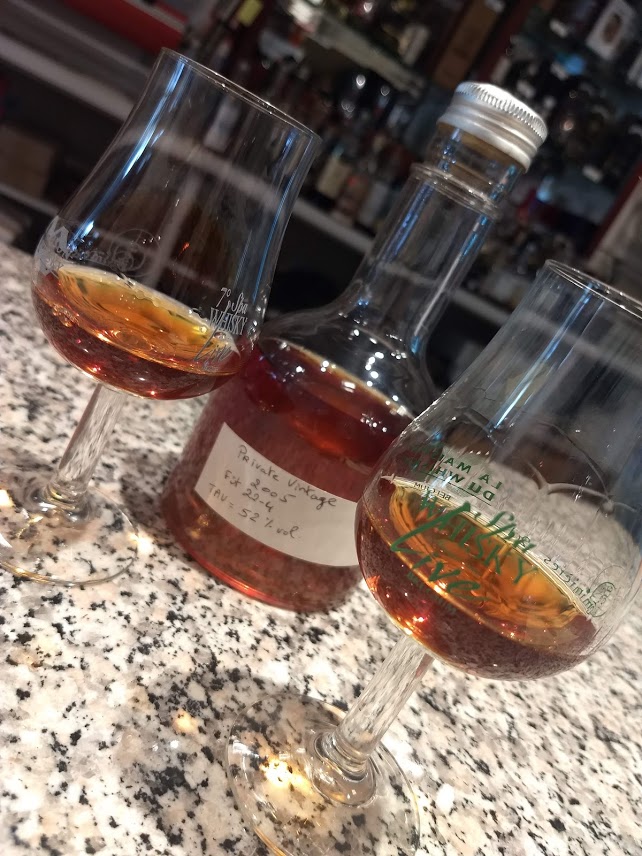 Nose: sweet, warm, opulent.
A beautiful wood, as 3R can do, is mixed with wax, eucalyptus and fruits. The fruits are backed with banana, pineapple, apricot, apple and bloody orange.
Spices with curry, nutmeg, vanilla, licorice and peper added to the cigar box, cold cigarette and dried fruits give to the ensemble a sherry aspect. Vegetal are there too with pine cone and tree sap.
The alcohol is really well integrated, no violence in this juice.
Palate: the limousin cask gave all its caractere to this rum. The bitter chocolate, wood, cofee are directly detectable.
The rum is hot, bright with lot of peps. The chocolate powder, vanilla and spices gives to this rum an « HSE 2007 small cask » aspect, but complexier and stronger.
Bloody orange and eucalyptus give some freshness to the rum. Yes…. that's good !
It could remind an old Sherry Whisky in facts 🙂
Price: not known for the moment but we could guess 110€
Conclusion: this great Trois Rivières has 2 aspects in facts, directly inherited from the cask.
The nose is clearly influenced by the cognac with its rancio, fruits and the palate recalls the limousin.
That's a really good selection by Hubert and we are glad to have wait for this one some times.
This rum has to rest some minutes to give its maximum, be patient 😉