New tasting with the last bottling for the anniversay of Velier, the Antigua 2012 Single cask.
As you know perhaps, antigua distillery is the home of the well known English harbour.
During a visit at the distillery for preparing the anniversary's bottling, Luca was informed that 27 cask were set aside. Due to a technical problem, these cask had an esters rate too high for their blends.
Luca love these kind of things and taste them. After that he bought the stock in order to do his own antigua blend.
The story says that the cask n°2598 was the best one, so Luca bottled it as a single cask.
With 68.5 abv, this young rum of 6 tropical years seems really hot… I don't really understand these so high abv rums for the moment.
I know, lot of great caroni and demerara have this kind of abv but they are older than 6 years.
Hope it won't be a remake of the hampden HLCF… For me this Hampden should be reduced, we'll see for this one.
44% of angel share and 212gr/hlap of esters ends this small presentation. This esters rate correspond to the LROK mark from Hampden.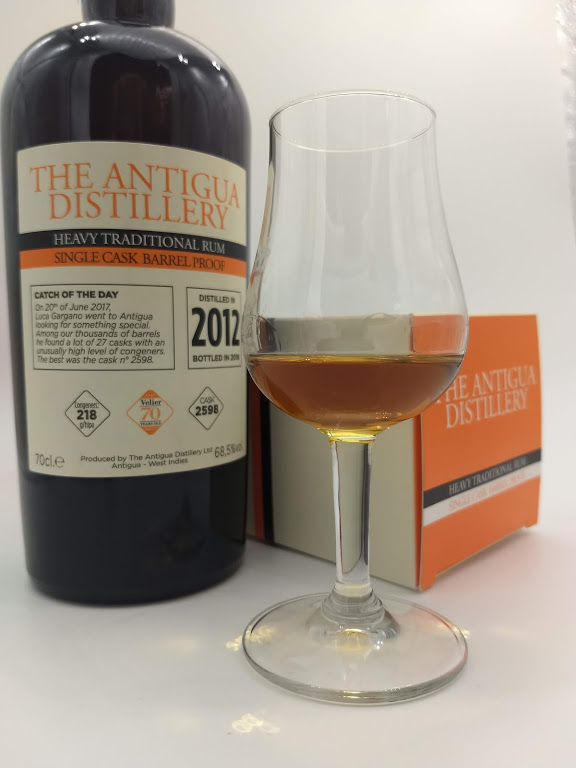 Color: gold/Brown rum with big tears on the glass.
Nose: vanilla, « crème brulée », marzipan, citrus. It smells a good citrus meringue in fact, it's really attractive.
There is some fruits too as coconut, apricot and citrus again. This nose is really fresh and airy.
slightly baked caramel and some spices as nutmeg gives a warm side on this antigua
Sadly, alcohol is a little bit too present for me. 
Palate: very hot 🙂 We'll wait some minutes hoping this antigua will be calmer after that.
tic tac tic tac tic tac…
And yes, after 30-40 minutes, the juice is open now and releases a very good taste in mouth.
Once again, coconut, citrus, vanilla, caramel… it's really good.
This rum reminds me the excellent Uitvlugt 1997 from velier too. And that's a nice compliment !
The magical combo, coconut/caramel/vanilla/licorice, is here and really near of an Uitvlugt or a very good Belize.
Sadly, too brutal to access the same level of Genius but still something really well done.
Price: 82€
conclusion: what a rum ! I didn't expected so much fun with this one… clearly the good surprise of the 70em anniversary of Velier.
Except for the alcohol, it's great. Luca did it once again, catch it if you can !.