One of the important components of any passion is sharing and friendship … unless you are passionate about murders, robberies and other tricks of the style of course, nothing like sharing the latest finds with friends 🙂
Tastings with a wine merchant or at amaster class, it's great, it's even essential for learning and progressing, but meeting up with passionate amateurs around a good table, nothing like it!
And over the past few years, I have been able to build great relationships with a lot of people, and some with whom we occasionally organize afternoon tastings between us.
And like all groups, we even have a name (which we found for us), the Bollocks …. yes, we are Belgian and we love self-deprecation!
This article is therefore based on one of these « working meetings » held recently. What is the use of telling you about an afternoon with friends? Let's be honest, nothing …
But this is my blog and I do what I want! In order to make it more interesting, I will give you a very quick opinion on the beautiful things tasted.
So this Saturday, February 22, we had an appointment at Nico to share the afternoon between 6 « bollocks » (plus our Bob) and our favorite spirits as well as beautiful bottles to discover.
Aperitif
The aperitif time therefore struck fairly quickly, and seeing the lineup on the bar, it would have been necessary to make a choice!
A day like this is a marathon, not a sprint! So I decided to start wisely with a (very) beautiful IPA: the Bale Ale from Dry and Bitter, all fruity and sweet.
Directly followed by a Montebello ti punch which is also quite soft, fruity and round. Very beautiful discoveries
And when I talk to you about sharing, here is the friend Etienne arrives with lots of beautiful cheeses and other pork, just to whet our appetite!
For the rest, Bert Bruyneel was not there, but his « blanc cassé » well … So, we'll test that ! Well it's rather nice but I think it will go better in ti vieux than pure … the 59% are still quite present, a little sugar and lemon arrange everything perfectly! Nice discovery too.
Speak about power ? my last white rum before dinner was not lacking … Le Distillat of Bologne is nice from the top of its 75%, with a crazy nose but unbalanced in the mouth I think. We are far from the « roundness » of Genesis for example, it knocks… and by the way it costs a lot this one, 95 €! Must calm down anyway 😀
Here is the end of a very nice aperitif … limits too much in fact too nice things on the table. So, I spend my meal in the water history not to go into a total spin! Thank you Audrey, your dish was very good 😋
Le digestif
After that good meal, it's time for digestives! And that's not what was missing either!
Oddly, my choices went more towards grapes and malt than cane sugar actually. Apart from a nice Neisson 2012 but nothing more, the rest will have been armagnac / cognac and whisky.
And it's with heavy that I start, the famous 1994 Lous Pibous from l'Encantada. A monster of generosity and elegance, Ze slaps it so well done and with superb balance, something crazy!
Next is a cognac over 40 years old from Vallein & Tercinier which is incredibly elegant and fruity. Special edition for Wine4You in Belgium … Ze second slap, one of the most beautiful cognacs I have tasted 😋
I end my wine journey with an Armagnac Tariquet 100% folle blanche too but with less success … a woody too marked in the mouth spoils the moment a little. I've to re-taste to see the evolution after opening.
Make way for cereal brandies and I start with Scotland and a young Clynelich 2008 11 year old bottled for Whisky Sponge … very fine, fruity and balanced, I loved this young malt. Ze third slap! In addition, the label made me laugh!
We continue on whiskey but in Japan now with a set from Shizuoka by Asta Morris. On the menu, a new spirit and a 27-month-old distillate …
The nose of the new Spirit is rather confusing in fact, it is very sweet and fruity, limits an agricol rum. Mouth is definitely not my thing. Not bad but no more packed than that.
The 27-month-old on the other hand, rhoooo how good this little filth is! It'll be very cool stuff when the first 3 years come out! To watch this very closely, I hope that it will not go in all directions as with Chichibu and that we will manage to find some.
The following ? Water, coke, coffee just not to sink directly on the dark side of the force 😀
The after
But that day, we did not have that bollocks day, Luc also organized an LB Tasting Spirits tasting evening with the theme of La Compagnie des Indes … and we planned to go there too!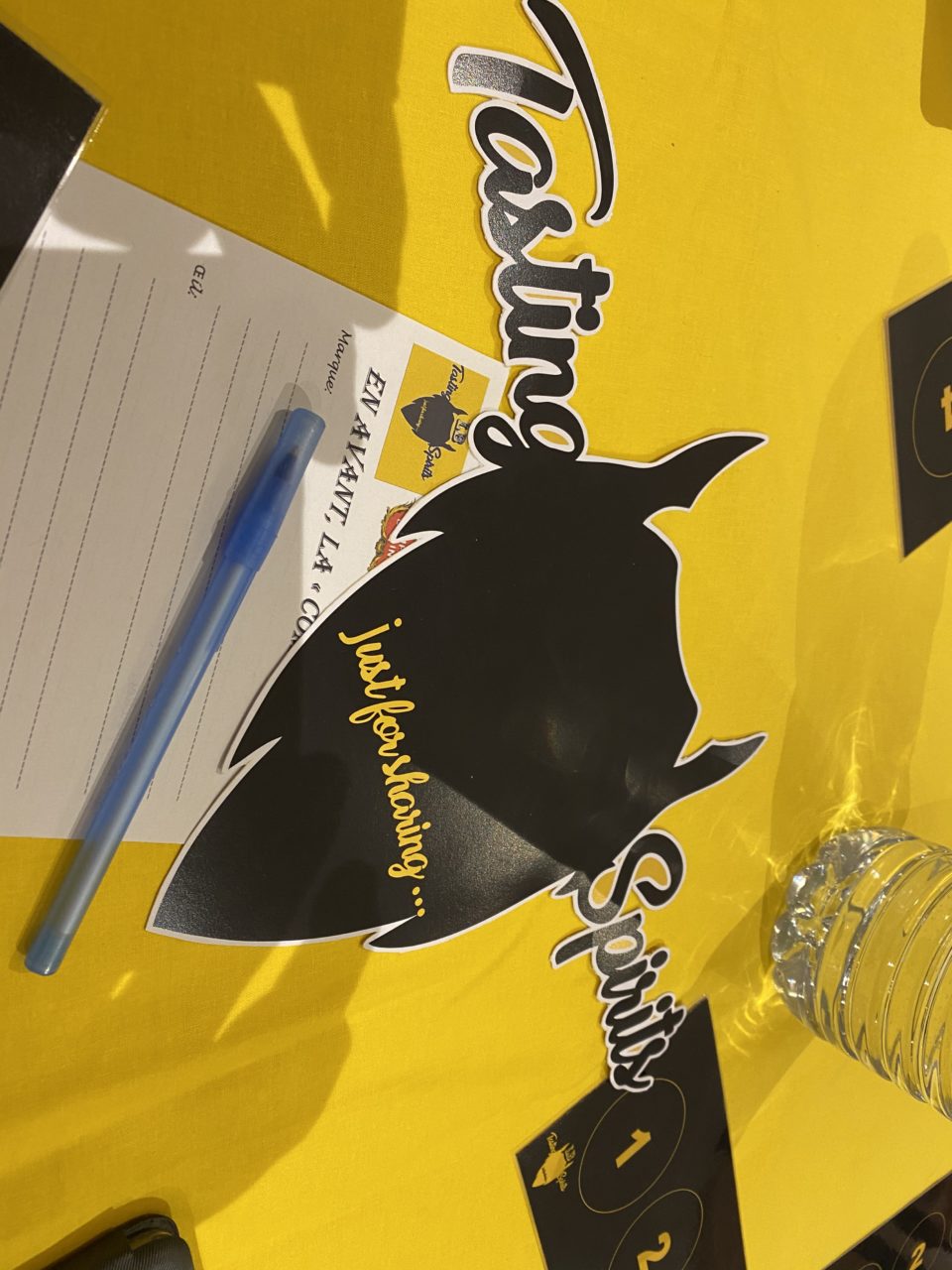 And the guy didn't give a damn about us, with a very nice lineup! A reduced Worthy Park that I really appreciated at Spa followed by the crush of Florent Beuchet, his really atypical Indonesia and above all great, a real treat!
The result is a rather light 1993 caroni in its caroni aromas, slightly disappointing for fans of bitumen but intrinsically convincing all the same.
And a monstrous final on a BelleVue 1998 for the German market, just a slaughter! It is probably the 857em to be proposed on the market but what the hell is that one, top selection!
Florent will have for his part planned a 5th rum as a gift … I don't know if I can talk about it, only thing I can say, it's great but too fiery 😅
After that …. pfff, it was still time to return because the fatigue was starting to be clearly felt, the marathon was very pleasant but long 🙂
Many thanks to all participants, and see you soon !