back on two demerara from our friends « The Duchess » in Holland … All thanks to Nils for sending me two nice samples!
And as usual with the demerara, it's not easy … a Diamond 1998/2019 which would be an Enmore and Enmore 1990/2019 which would be a … .Diamond? no, not possible that, it's a Versailles in fact 🙂
Yes, it's always difficult to manage demerara marks but it makes the game more funny I think.
Both aged mostly in Europe more than 20 years … That's the last bottling of the « flowers » series, once again, Hans Dilesse will have done a wonderful job at the label level … Superb!
Diamond 1998

Concerning this Diam … er this Enmore, particularity, it will have been transferred in a barrel containing Armagnac before that and there will remain still 8 years.
Titrating 50.8%, this juice of 20 years rather clear should promise a lot of fruit ….
So, what will this grape / molasses mix give us? We had already tasted peat and grapes, it was quite special all the same, let's see what we reserve this one!
Color
Straw, really clear one.
Nose
The first nose is quite strange, on the pritt glue and vanilla in particular. Fortunately, the result is more logical with a lot of fruit including orange and pineapple … Few woody traces and an alcohol rather present.
Over time, the nose turns more towards something vegetal, minty with a « chartreuse » side or old liquor. Something of the style in any case.
Palate
Vanilla, grapes, glue pritt again … a very oily, sweet, syrupy appearance like a kind of very mellow white wine.
It's fruity too, with apple, apricot and chocolate but not bitter, more bold as white in fact.
It's quite special and far from the idea that we have an Enmore strangely …
Price
95€
Conclusion
Very special, not bad but can be too « sweet » for my taste and not enough demerara
Where does this idea of ​​putting an Enmore into an armagnac shaft come from?
He would have stayed there for the last 8 years of his life, this is rather strangely long.
In addition, it was swayed in this barrel when it was already 12 years of aging .. it seems strange to me to make this decision with a rum already so old.
Did they wanted to hide something wrong with this cask ? In any case, it's not bad but it remains … strange, it is the word
Score
84/100
Enmore 1990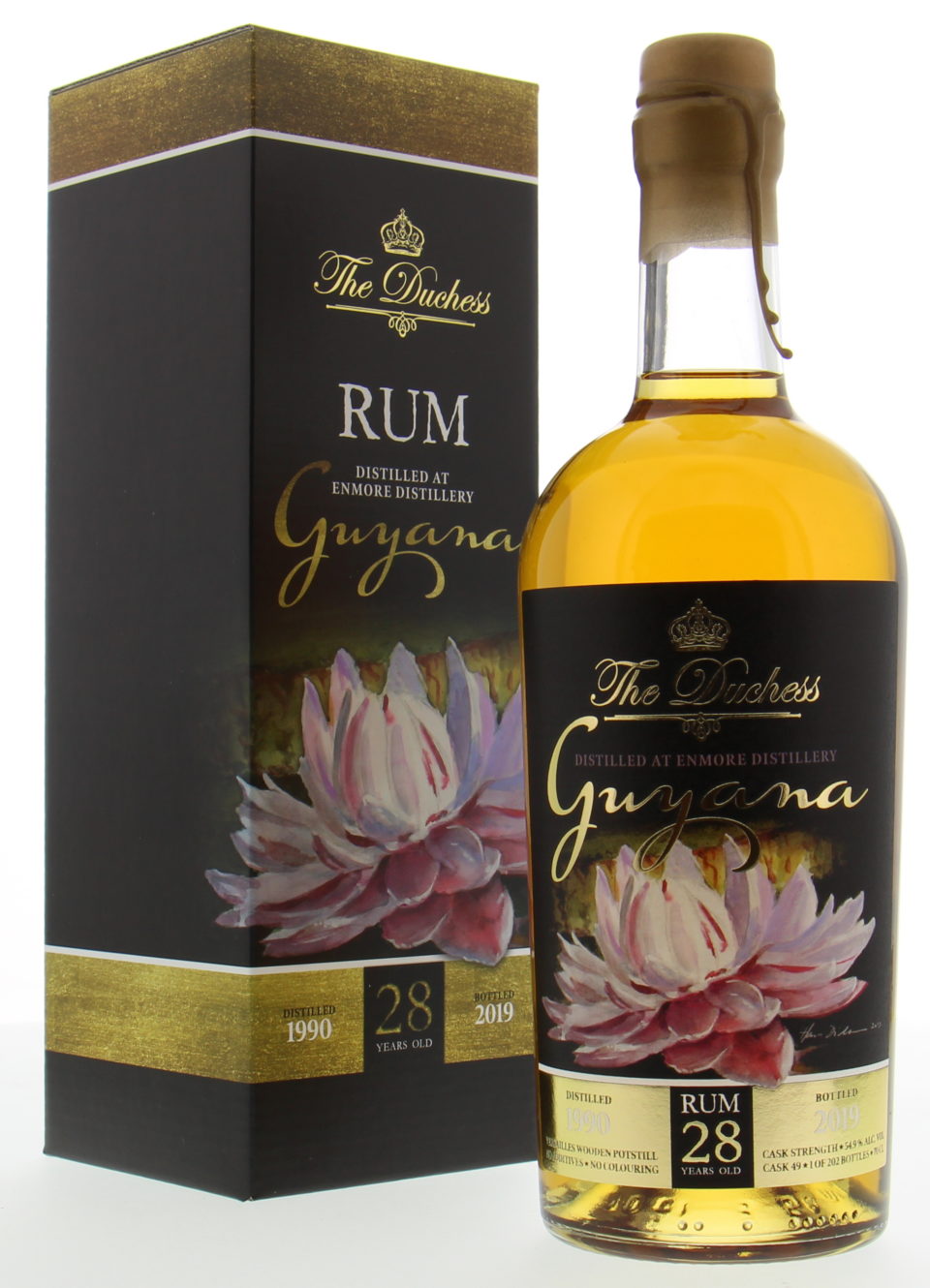 Developed in 1990 at Enmore estate in Guyana, this juice is the result of a distillation in one of the last 3 wood stills in the world, the famous still Versailles.
Located now at the Diamond Distillery, this still has gone through the centuries and is a true cult piece, as well as the Port Mourant and Enmore's wooden column.
Aged 28 years in bourbon casks, I hope that time will have mitigated this typical woody bitterness with which I have so much trouble …
Color
Paille
Nose
Buttered, fruity with apple, pear and a side glue / delicate solvent. I also find yellow flowers, a hint of violet and a little bit of woody bitterness, not too disturbing but present.
It is rather charming and fragrant … a delicate nose and quite fine.
Palate
« Versailles alert », we are clearly in what we can expect from a continental Versailles without adding molasses …
Again, the years seem to have smoothed, polished the spirit that is pretty classy. It is buttered, oily, vanilla, fruity with a hint of almond that can give the impression of frangipane, herbaceous.
The origin of the fruit is more to look for the orchards than the tropics, it's quite fresh and pleasant with some apple, cassis and peer. Some spices of which a slightly peppery aspect is to note, it is rather end.
The wood is present but not too much, just a small hint of metallic bitterness at the end of the mouth but without being predominant.
Price
245€
Conclusion
A beautiful expression of an old Demerara aged on our beautiful Europe for almost 3 decades … the price will necessarily pair unfortunately.
But this rum is rather fine and classy.
Score
87/100