Here is an article that I look forward to every year, the small note on the new La Favorite vintage … and this year, we are spoiled with this 2010 because it shows a few watts more on the counter!
The distillery is listening to fans, and as it emerges for some time a craze for rums a little more punchy, here we are with a spirit with almost 53 watts, 52.8% exactly. Where the previous 2009 proposed 48%.
5000 bottles were produced and waxed by hand as usual, to offer a very nice bottling « premium ».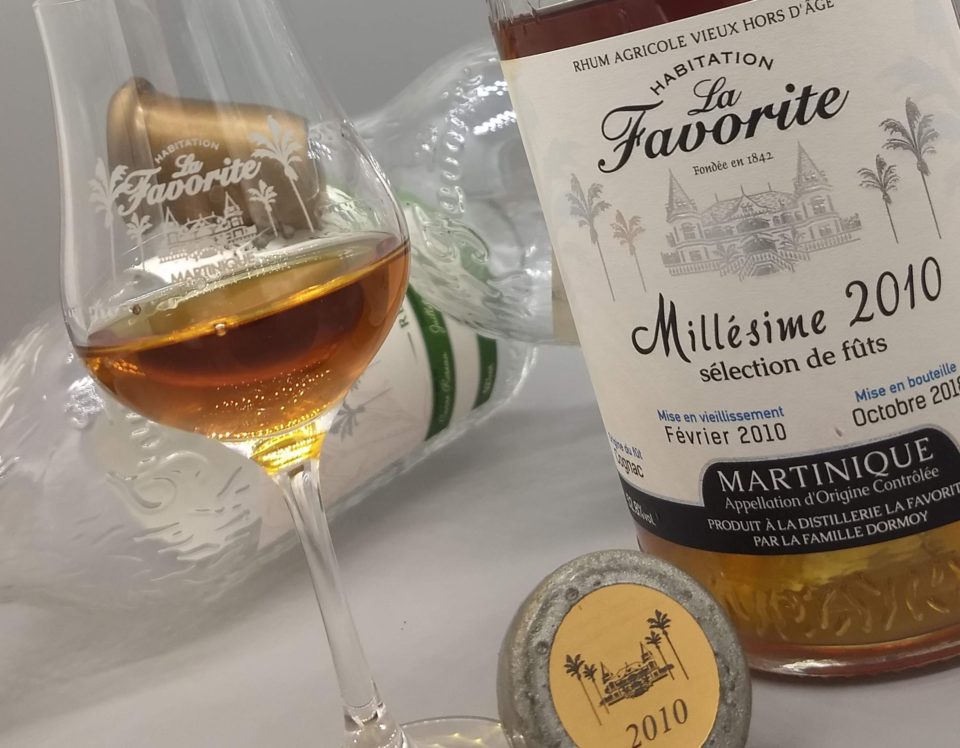 Color: brown, light mahogany. Beautiful lace along the glass.
Nose: Typical from La Favorite with this old woody, light mocha / caramel, white chocolate, beeswax, exotic fruits.
Sugar cane is still present after almost 9 years in barrels of cognac. It is rather fresh and vegetal.
Each time, it's the same, I see myself in the cellars of this charming distillery …. this nose is a real madeleine de Proust for me, as it reminds me of this smell mixing an old, rancid and fragrant.
The near 53 watts are rather discreet and do not interfere with our tasting pleasure.
---
Palate: dry and lively compared to 2009 which was more warm and consensual.
But it remains hyper balanced and elegant, just the pep and more that in the end is welcome.
Tobacco, dark chocolate and a fine and elegant wood are offered to us by the barrel.
The fruits and fresh cane, inherited directly from the initial distillate, are still present and add a nice touch of freshness.
The wedding of the two giving us a very nice moment tasting, all raised by a delicate sweet / lemony feeling as a « ti vieux« .
Price: +- 90€
Conclusion: What more can I say, I really like this authentic distillery, where passion and know-how are present every where…
It is not easy to subjectively note this, but for me it represents a very nice tasting 100% rhum agricole.
A bottle to have clearly in his bar!
Score: 90/100