Neisson is one of the smallest distilleries of Martinique …. one of the youngest also with 'only' 85 little years of life. Small focus therefore with the meeting of Gregory Vernant who kindly agreed to answer my few questions
Can you present us your career in the distillery? Where did you start? What were the different stages of your learning and what is your role now?
I started working at the distillery in 1995 when I concentrated on the agricultural part and the factory, the distiller of the time Emmanuel Fédronic took care of me for 5 years.
The production tool was in bad shape and it took a lot of things to start over. Step by step I also recovered the commercial part that I reorganized in 2000.
Learning is mostly done in the field and during travel
Today we are a team of three to manage daily with Julie who is in charge of Agro and Alex production and aging, without forgetting of course Omer Pain which replaces me more and more to the distillation and which manages the factory.
Neisson has been in existence since 1932 and is one of the last 100% independent distilleries in Martinique. How is Neisson doing in 2019 and what are the main difficulties you face?
Today, nothing is acquired and the constraints and norms become more and more complicated and sometimes incomprehensible.
For example, a bill imposes dust standards for our bagasse boilers, which are 3 times more stringent than oil boilers, while we are one of the most virtuous sectors.
There are also difficulties related to global warming with this year an extremely strong drought and a lack of dismal anticipation of elected officials and the administration.
Water should be free in Martinique if it is well managed.

You are the only ones to offer organic rum and 100% AOC, the goal is it to make only 100% organic in the future or the two ranges will remain?
100% organic, for now it seems complicated especially for the reasons I mentioned earlier.
It should first be water in abundance this is not the case today but also a strong commitment of politicians and administration to help those who wish to take the plunge.
Don't forget that there is a magic weed killer in France called winter!
But in Martinique there is no calm, we must weed all year. One hectare of Bio applied for an average of 638 hours of human intervention, compared with an average of 185 for a conventional hectare for 2017/2018.
Unfortunately today there is a huge gap between the rhetoric and the actions of our decision-makers regarding support for biological conversion.
What does bio represent for neisson? A way to stand out or a real commitment to quality and well being?
The Bio today is 15% of our surface and for the other 85 a reasoned culture and phyto products that we forbid to use (we have never put Asulox and glyphosdate was deleted 4 years ago.)
We don't start bio initially for commercial reasons but by conviction because we must agree to lose a lot of money in the early years.
I speak in tropical climate of course.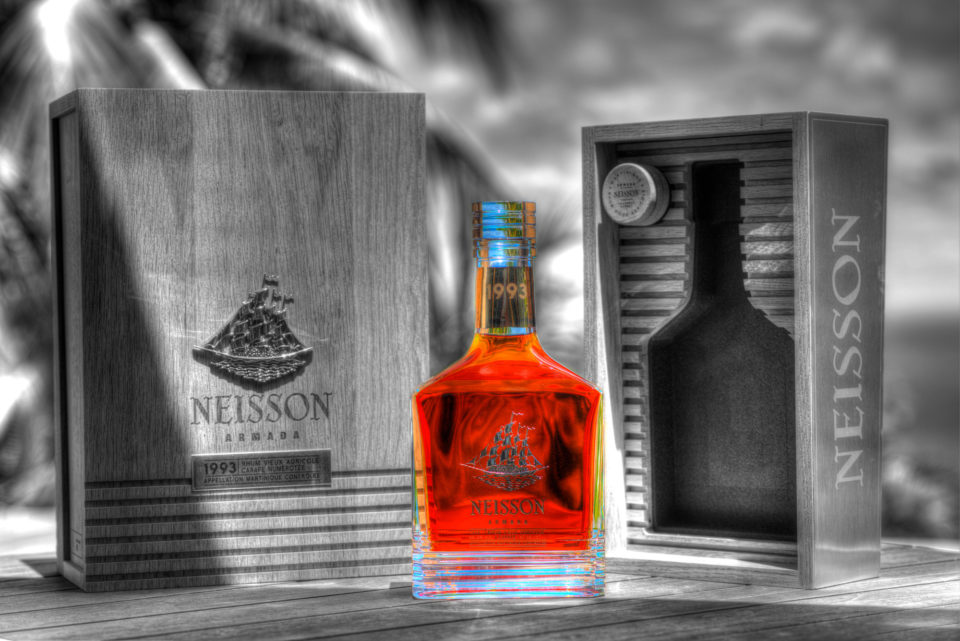 The oldest vintage Neisson I know is a 1991 … There were other vintage Neisson before that? How was your range before your arrival?
We still have some older rum bottles but they are not vintage. Until 1996, we had the 50 and the 55, the straw rum and the extra old.
Then added the special reserve, full proof in 2001, l'esprit in 2002 and 52.5 in the wake.
Do you always have very old Neisson at your disposal? Has the style changed dramatically over time?
We do not have in barrels of rum of more than 21 years, beyond we don't know yet to make.
Neisson is about 400 barrels, the smallest after us is 3 000 barrels and then 10 000, so it's very complicated for us to maintain a stock of rum beyond 15 years, it is in barrels or in half of barrels!
I do not know if we can strictly speaking style but we try above all not to « mark » our rums by the wood, we are looking for the ideal balance between the woody and fruity but we are far from having found and it's exciting !
I have in mind a picture of really dark old rum, where does this color come from?
if you have in mind the extra old red label, the rums were dark with the addition of caramel simply.
It is a practice that I stopped in 1996 the dark color could also come from the barrels that were re-burned in order to color the rums.
You are relatively close to Luca Gargano, have you already taste his famous Caroni or other Demerara? What do you think about this kind of rums?
The tasting is something very personal and subjective, I will refrain from doing any criticism whatsoever but they are rums that I do not know very well.
I'm more used to tasting agricultural rums.
How do you see the future of Martinic rum, AOC and Neisson in particular? There is no reason for stocks to increase but demand well, how are you going to handle that?
The future for small structures is not necessarily optimistic. As I told you before, the proliferation of standards is not going in the right direction.
For stocks, it is already nearly 10 years that we fail to meet the demand, we do with everything not forgetting that the local market remains our priority.
Many Neisson's bottlings have come out in 'tatanka' mode, it seems to have become a full-fledged range at home, how did it happen and what is your attachment to that?
Oh no this is absolutely a range apart, it allows to put a little color in our shop. After that it is also a request of our distributors and it is quite nice on a library.
I just met the boss of tatanka twenty years ago and we liked what he was doing and we agreed on a long-term partnership.
What is your biggest pride with neisson? If you only had to choose one of your traffic jams, which one would it be?
In white, « l'esprit » by which we have been the precursors of white rum high degree to whom we have restored its acclaim and of course the Bio.
In old, the 2003 last batch will soon arrive.
This is our last barrel. This vintage represents a very special year from many points of view and the vintage will be unveiled at the whisky-live.
Apart from Neisson, what are the rums you secretly enjoy and what do you think?
Ah ah ah I do not taste secretly but regularly both as part of the AOC jury but also in a personal capacity.
I love first the rums of the North Caribbean so depaz also St james for his old and I travel to my friends in Guadeloupe with Longueteau and Marie Galante with Pere Labat.
I refuse, however, to drink the sweet rums and the so-called rums aged in Europe, it is for me a lie and these products should be banned or not to mention rum.