Here we are for a small trip to Holland with a pretty young bottler called « The Duchess« .
Young but already with 5 botlings from Jamaica, Barbados, Belize, Guadeloupe and Trinidad… hyper classical destinations but effecient 🙂
Just before the big part of this article, little focus on the quality of the press kit. It's just top ! Thanks to them.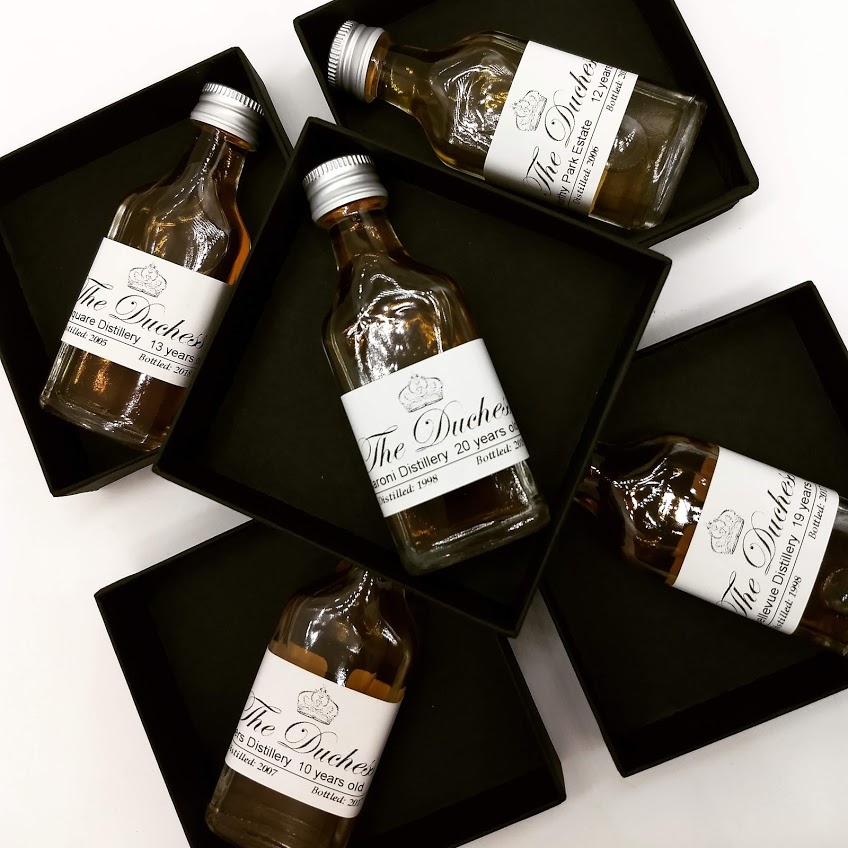 That's clearly not the mot important but it's a very good start. Let's see if the quality of the juices is as good.
---
Belize 2007/2017
Aged 10 years, the Young belize rum has 66.6% avg
Color: mahogany, pretty Brown for a so young rum.
Nose: spiced, the 66% are well present but it's bearable.
Vanilla, pepper, salted butter caramel aspect give a relatively greedy side to the whole rum.
There is also fruit with banana and mango. The nose is rather nice, warm and greedy.
Palate: sweet for the 66% of abv… that's really don't disturbing but it remains 66% 🙂
The fruits are still there, cooked fruits to be exact. A kind of sweet marmelade of apricot.
The finish is marked with a big burnt caramel, a little « distgusting » (I think the term is not appropriate, excuse my english)
Price: ??
Conclusion: Nice belize rum, not on the coco/vanilla trip as we can often see. A little « passe partout » but nice one except this caramel too present at the end for me.
Note: 16/20
Jamaica 2006/2018
Distilled at Lluidas Vale in 2006, this 57.9% rum is actually from the Worthy Park distillery. This juice aged 8 years in Jamaica, the rest in our good old Europe.
Color: gold
Nose: a lot of exotic fruits as banana, mango, pineapple, citrus… really nice !
Some freshness with menthol or eucalyptus come after. The nose is really sweet and perfumed.
A light smoke is to report but it is the fruits that are retained from this rather exotic and fragrant nose.
It reminds me the worthy park from « Excellence rhum » in fact.
Palate: fruits are still there but less perfumed than the nose. There is more wood with chocolate powder, wood, bitterness, tabacco and give to the juice a rawer aspect.
I feel a small wet wood at the end as we could find on a port mourant… lighter of course.
Price: 65€ (!!!)
Conclusion: really nice jamaicain rum for only 65€. well done !
Note: 17/20
Guadeloupe 1998/2017
Derived from the Bellevue distillery, this rum of 11 years proudly 54.9% title and will remain in Guadeloupe 7 years.
Color: brown gold
Nose: a strange mix of mint and chocolate … after eight? well, yes, a little bit anyway.
The fruits are also present with prunes, grapes and beautiful floral scents.
Alcohol is … ho wait, which alcohol?
Palate: sweet, on lemon, mint, cigar box, dark chocolate.
Again, the alcohol is totally melted but I can't take great pleasure with this Bellevue despite the qualities.
Price: 99€
Conclusion: a very fragrant rum, you have to love. For me it's not what I prefer in this case. Serge praised it, but I'm less impressed.
It's just a personnal feeling.
Note: 16.5/20
Barbados 2005/2018
This Barbados rum actually hides a distilled juice at Foursquare in 2005 and aged into the tropics for 11 years before ending aging in Europe. This one says 59%
Color: gold
Nose: typical of foursquare actually.
Blindly with the official 2005, not on finding which one is which.
There is a sort of fruit marmalade mixed with roasted and caramelized dried fruit (toffee).
It is super greedy, round and pleasant.
I would say that a more grassy aspect is noteworthy compared to the OB with a more pronounced freshness eucalyptus and a hint of lemon.
Palate: still a fairly remarkable sweetness as foursquare accustomed us.
Vanilla, brown sugar, stewed fruit are all part of the game without any of them taking over.
It is a delicacy quite crazy.
Price: 75€
Conclusion:a very good foursquare, really round and greedy. A nice bottle to share with friends. 
Note: 17.5/20
Trinidad 1997/2017
And yes, this trinidad comes from the famous Caroni distillery and has been aged for 20 years to be bottled at 64.6%
Color: brown gold
Nose: haaa, that « stinks » good Caroni here !
Directly, the characteristic (holly) smoke is of the party as well as the cooked banana. Garage oil, burnt caramel, wood (without excess), tobacco and tropical fruits are the main markers of this very greedy nose.
The 64% are totally absent and hyper integrated.
Palate: like the nose, very melted.
It is not without reminding me some kind of Bristol's caroni.
Garage oil, hydrocarbons mixed with this caramel and these tropical fruits …. mmmm (Grrrr), it's good!
Price: 195€
Conclusion: A very good Caroni, very sweet despite the high voltage, I'm in love !
Note: 18/20