Like many people in the french community, I became interested in cane juice thanks to « La confrérie du rhum » a few years ago now.
This group brings me, in addition to learning a lot of things, to meet nice guys. People with whom I share a lot of good times and discussions.
So, I was very happy to be offered by Benoit, its creator, a sample of the last vintage of la confrérie, Rivière du Mât 2006.
For those who doesn't know Rivière du Mat, it is a distillery of the île de la réunion that offers since 1886 rums molasses rather aromatic.
These one spontaneously contacted Jerry and Benoit to offer them a 2006 single cask and, although suspicious at first, they were taped by the quality of this one.
Tonight therefore, we will discover what is so awesome … personally I knew only Rivière du Mât name, so I will be able to directly access the top of their home. Thank you Benoit!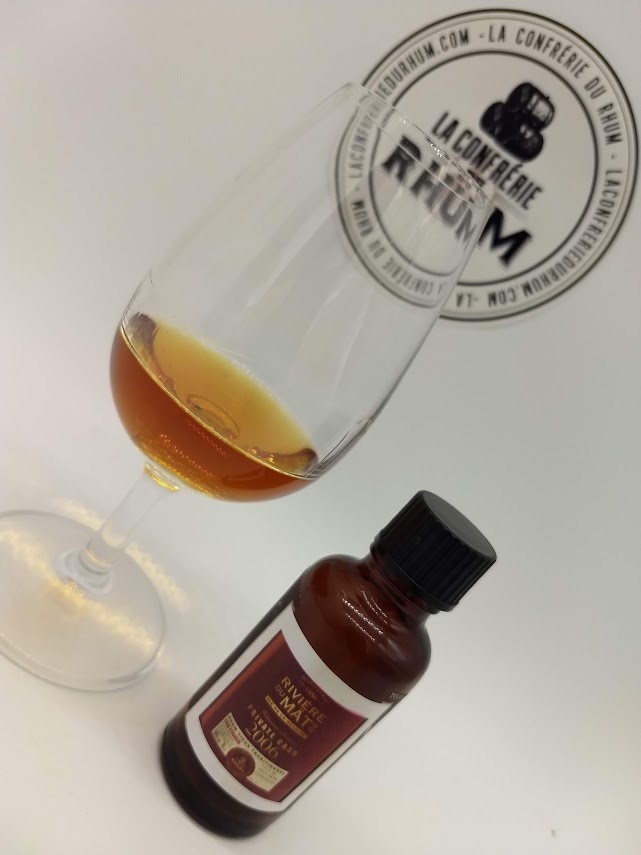 Color: mahogany / orange, it's pretty
Nose: rather fresh and pastry, on apple, pear, clementine, exotic fruits, pineapple, mango, yellow flowers, salted butter caramel.
It is quite fragrant and greedy, we are a bit in a trip « new grove style » in fact with just less exuberance on the fruit and more spices like vanilla and gray pepper and a side crème brûlée .
A note more minty, on camphor adds a touch of freshness to this nose decidedly very pastry and pleasant.
The 50% are present, we feel that we are not on the 40-42% but the whole is relatively well melted.
Personally I really like this kind of profile more about finesse and delicacy.
Palate: the mouth is rather sweet and warm. The 50% bring the necessary pep without destroying the mouth.
Like the nose, it's very fruity with more mango, pineapple, red orange , vanilla.
Really very exotic this 2006! I would also say that I find a vinous side, rancio that brings a lot of roundness. A cognac side actually, it's very nice.
Salted butter caramel is back in the game and comes to end this tasting on a rather long and delicate length.
Liquorice is the last aroma that I detect at the end of the mouth …
Price: 85 €
Conclusion: I like it a lot, it's a very fragrant rum as I like them.
The complexity is there and all with a nice price. Congratulations to Rivière du Mât and the brotherhood for this beautiful vintage.